There is a horrific story here but the Mockingbird Media has clearly decided to ignore it.
News around China decodes a Chinese silent but colossal war against America on 5 different platforms, if not more.
1-There are reports about a Chinese pedophile ring, tied to some names in America.
2- There are verified rumors about Coronavirus build in a laboratory in China.
3- Evidence of Chinese censorship and propaganda in American media including major news channels and radios.
4-Evidence of some American universities run by Chinse government.
5-Probable cooperation between the Chinese government and high-profile American elites and billionaires.
The question is: What are we doing against this silent war? Do we even know there is a war going on?
1- There are reports about a Chinese pedophile ring, tied to some names in America.
RYB ABUSE
1-1 A state educational system was widely reported for molesting toddlers in China. This educational system has also obtained a license in America.
1-2 The educational system runs the most horrific pedophile ring and acts as an entry to access children. The school entity listed as (RYB) on NYSE has ties to Wang Qishan, the corrupt Chinese Prime Minister.
1-3-The Chinese Billionaire Miles Guo who has fled to America, and lives in Manhattan has seriously and precisely accused the Chinese government, Wang Qishan, RYB and the Western allies who are powerfully controlling Western Media and courts.
1-4 What Guo says and is strongly ignored by the Mockingbird Media resembles Wang Qishan, the pedophile ring and RYB preschool to Little Saint James and Jeffry Epstein. He claims that the RYB acts as a channel to access toddles and provide resources for the elite while their secrets and tapes are portalled into Chinese servers.
In 2015, rumors of child abuse started to spread about a main educational system with authority in most Chinese cities and a license to have schools and kindergartens in America. The abuse included needling toddlers, injecting "white substance", taking two white pills after dinner to sleep, stripping naked for adult teachers, standing naked as punishment and sexual abuse. The company is "RYB Education" (NYSE: RYB), with its stock listed on NYSE.
Articles published about this topic were on the BBC and Reuters and while all reported the same news, some of them revealed more details. We have selected parts of these articles. The reports are designed very conservatively. The media apparatus goes with its old strategy of scolding those readers who believe the story while reporting at the face value. If they could, they wouldn't even report it. However, you can simply click on each link to read the full story: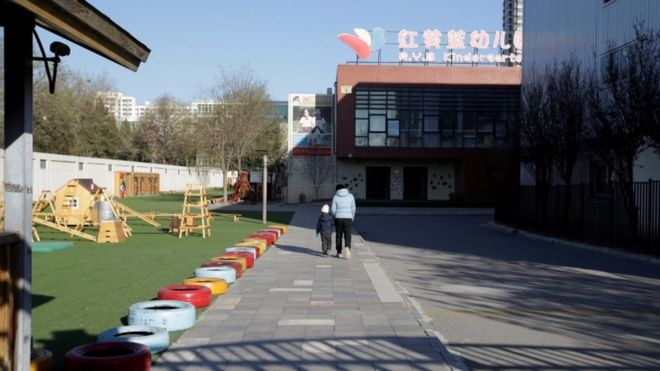 "A police investigation into child abuse in a Chinese kindergarten has dismissed all but one of the main accusations, causing widespread social media outrage, with parents turning to lawyers.
Children as young as three had been found with marks on them, which appeared to be from needles, sparking fears that injections were being used as a form of punishment.
Then there were stories from other parents saying their children had been forced to strip in the presence of an adult man and to take mysterious white tablets.
However, police also said chunks of surveillance material at the kindergarten were not available because the hard drive had been damaged.
Staff told officers they had been switching the security camera system on and off because it was too noisy.
Using keyword-blocking software, Chinese people are now being prevented from airing their grievances on social media about the outcome at the kindergarten.
Outside the Great Firewall of China, the capabilities of the Communist Party are being brought into question on platforms such as Twitter.
This kindergarten is operated by RYB Education.
According to its own website, the company runs more than 1,000 facilities across China.
It said it "deeply apologises" for a matter it said had caused "severe disquiet".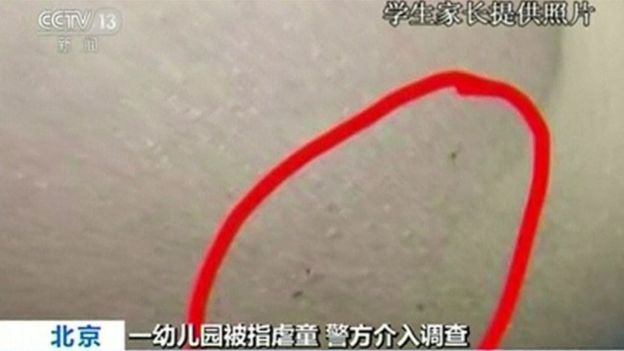 RYB is listed on the New York Stock Exchange and when news of the allegations broke its share price initially plummeted.
But to the disappointment of those railing against the company, it has since recovered considerably."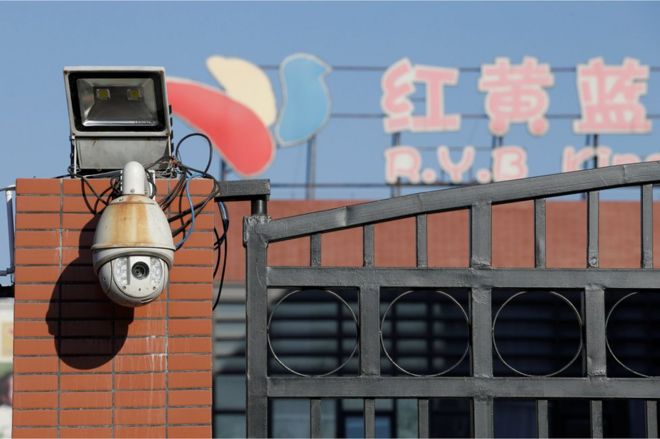 A Beijing nursery is accused of giving injections and feeding drugs to toddlers, in a case that has sparked outrage in China.
Authorities are now investigating the nursery, which is a branch of the well-known RYB Education chain.
'Forced to stand naked'
At least eight children attending the RYB Education pre-school in the upscale Chaoyang district are said to have been injected with unknown substances.
Parents told local media they had discovered needle marks on their children's bodies in recent days, and also circulated photographs online.
One father told state broadcaster CCTV that his child had said that every day after lunch they would be given two white pills, and "go to sleep" after eating the pills.
Local media report that some parents are also alleging possible sexual abuse, saying their children were stripped naked.
Police have seized CCTV footage at the nursery, and three teachers have also been suspended.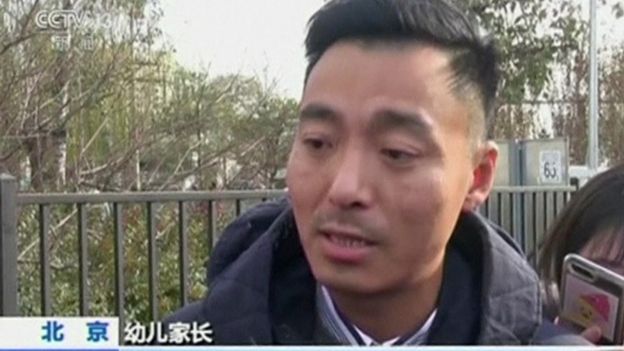 RYB Education issued a statement on Thursday (in Chinese) saying: "If any wrongdoing is found, we will not shake off the responsibility. And we have also reported to the police some false accusations against us."
The company is one of China's most well-known early childhood education providers, and was listed on the New York Stock Exchange in September.
Suspected censorship
Last year four teachers at a RYB nursery in Jilin province were jailed for abuse, also involving giving injections to children. State news agency Xinhua reported at the time that one child was found to have more than 50 needle marks.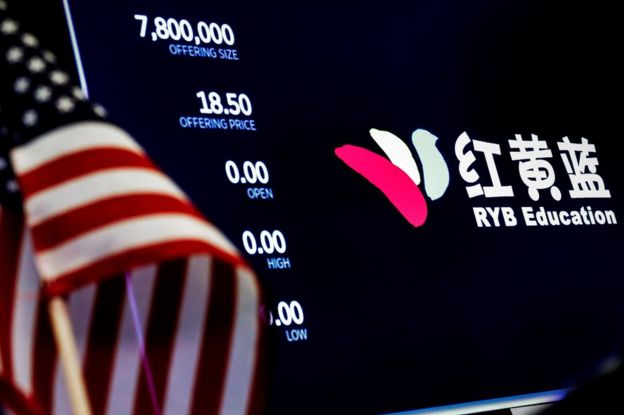 A check on FreeWeibo, a website which tracks censorship on the network, found the top censored search was "Honghuanglan", RYB Education's Chinese name.
"The authorities are covering things up, and have an attitude where they do not directly answer questions. After this, no matter what kind of explanations they give, it will be hard to believe them. They are losing public trust step by step!" said one commenter."
"Officers are probing claims children at the nursery – run by RYB Education Inc – were pricked with needles, fed pills and stripped naked.
Police also held a woman for spreading false information about the case.
At least eight children attending the RYB Education pre-school in the upscale Chaoyang district are said to have been injected with unknown substances."
BEIJING (Reuters) – Chinese educational services provider RYB Education Inc said it had removed the head of one of its kindergarten, as allegations of child abuse at the Beijing nursery rocked the country's booming childcare industry.
In a statement issued late Saturday, New York-listed RYB also said it had fired a 22-year-old female teacher at the RYB Education New World kindergarten. It said the teacher, surnamed Liu, had been detained by district police on suspicion of abuse.
Beijing police were investigating claims of child abuse at the kindergarten in Beijing's Chaoyang district, after state-run Xinhua news agency reported they were checking allegations that children were "reportedly sexually molested, pierced by needles and given unidentified pills".
Several teachers at the kindergarten had already been suspended since Thursday.
RYB's New York-listed shares plunged 38.4 percent on Friday as the scandal sparked outrage among parents and the public.
Parents said their children, some as young as three, gave accounts of a naked adult male conducting purported "medical check-ups" on unclothed pupils, other media said.
The Chaoyang district has launched an investigation into all childcare facilities in its area.
In 2015, a court in Jilin province found two teachers guilty of physically abusing children at one of its kindergartens in the city of Siping. In that case, staff at the school on "multiple occasions used needles and intimidation tactics to abuse many of the children under their care", according to a court ruling document."
Abuse claims

[

edit

]
Some kindergartens under RYB Education has been reported to abuse toddlers. The first reported incident occurred in December 2015 in Tiexi District, Siping City, Jilin Province, China, where the RYB kindergarten was reported to abuse about 30 toddlers with needle stabbing. The kindergarten director claimed that since the kindergarten was monitored over CCTV, the teachers did not have chances to abuse the children. However, this kindergarten was closed by the Bureau of Education of Tiexi District, and 5 teachers were detained by the police. In 2016, four of the teachers were sentenced to two years and ten months' imprisonment for guardianship abuse. The prosecution accused the defendants of stabbing several children with sewing needles on their heads, limbs, buttocks, and legs, deliberately avoiding the CCTV, and threatening the children with punishment. These four defendants claimed they were not guilty, and they all lodged appeals. In December 2016, Intermediate People's Court of Siping, Jilin dismissed the appeals and upheld the original verdicts.[13][14][15]
In April 2017, a video about the kindergarten circulated on the internet, showing kindergarten teacher hustling and kicking the children in their charge. That month, RYB Education established emergency group to track the incident, and said that it had exposed some problems on management that should be concentrated on and should be dealt by law.[13][16] In November, 2017, more than ten parents of children at the Beijing school reported that their children in a class at RYB Education Xintiandi Kindergarten in Guanzhuang, Chaoyang District, Beijing were needle-abused and were given white pills of unknown ingredients, and provided a number of photos allegedly showed toddlers' pinholes.[17][18][19][20][21] The Beijing Municipal Public Security Bureau Chaoyang Branch investigated. After the incident was reported on 23 November by the Beijing News,[22] other media scrambled to report. Dozens of parents who wanted to know about the situation tried to meet with the registrar, asking to watch the kindergarten's surveillance video, but were stopped by the security guard.[23][24]
On 25 November, the Beijing Municipal Public Security Bureau declared that one kindergarten teacher was detained for toddler abuse, and one parent was arrested for making up rumours.[25][26] On 28 November, the Bureau sent a post on Sina Weibo that stated that nobody had sexually assaulted toddlers.[27] The post also claimed that "feeding drugs" and "sexual assault" were rumours made up by the two parents.[28][29]"
South China Morning Post:
Principal also sacked but still no official word on specific allegations.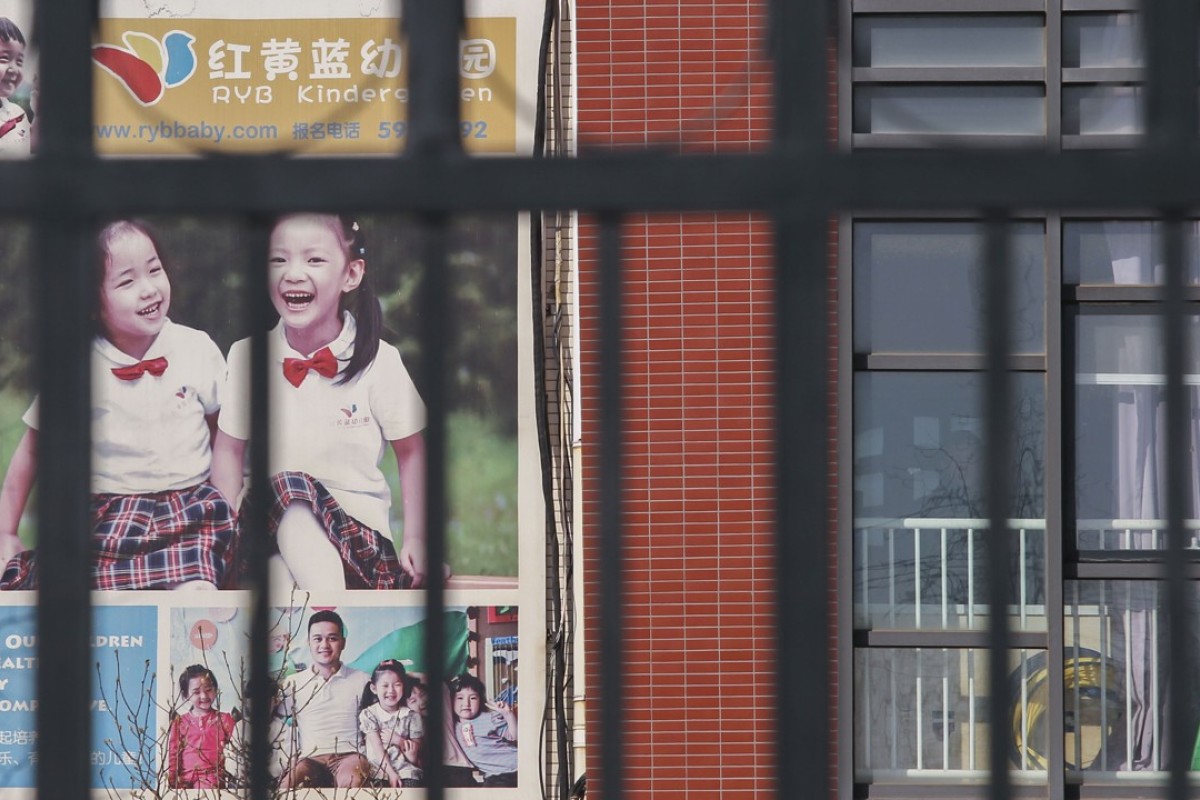 RYB Education New World has sacked the principal of the Chaoyang district school at the centre of child abuse allegations. Photo: Simon Song
According to Chinese media, parents allege that some of the children were molested, had needle marks on their arms and were given unspecified medication. But police have not publicly clarified what kind of claims they are investigating.
The Chaoyang district government said police reports indicated the case was one of malicious harm to children.
"We have asked the kindergarten's owner to immediately fire the principal, and we will seriously investigate the school and its staff," the district government said.
RYB Education, US-listed kindergarten network at the centre of child abuse claims.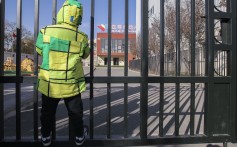 Soon after municipal police announced on Saturday that it had detained a 22-year-old teacher identified only by her surname Liu, RYB Education said it had sacked the woman and removed the kindergarten's principal.
The company also said it would inspect its kindergartens across the country and offer counselling to the affected children.
Chaoyang police said separately that they also detained a 31-year-old Beijing woman for spreading rumours that a military regiment was involved in molesting the children. On Friday, the People's Liberation Army dismissed the rumours, saying there was no link between serving military officers or their family members and the kindergarten.
RYB's share price in the United States has plummeted since the allegations surfaced. On Friday, the first trading day after the Thanksgiving holiday in the US, RYB's share price shed 38 per cent and closed at US$16.40, below its initial public offering price of US$18.50 on September 27.
US law firm Rosen said it was prepared to launch a class action case to recover losses by investors in the company.
Under Chinese criminal law, child abuse comes under an umbrella that includes abuse of juveniles, the elderly and the disabled.
****************************
As you have seen, the BBC and Reuters were insisting to say that there is lack of evidence on sexual molestation and the reports can basically exist as a result of "spreading false accusations" and completely ignores eight children who talked about a man performing strange medical exams on toddlers while the children were stripped naked.
Wikipedia and the South China Morning Post were more honest. However, what do we expect from a censorship system where the media means either the state media or the state "approved" media and the news shouldn't be the news but what passes the dictator regime's filters. Hence,  the articles strongly say that "there is something there", we just don't know how to report it. And why should that be? First of all, every news cycle hides pedogate news as a dogma. It is their religion to hide pedophilia and anything related to it and instead, point the finger to the accuser and not the predator. Second, the Chinese government's censorship controls not only the Chinese people but also the western media and many politicians. Senator Dianne Feinstein hiding her 20 years background with China is just mysterious amongst many. We will go through the complicity of Chinese trolls and their infiltration in the western media later in this article.
RYB Education Inc is registered in Cayman Islands; a British overseas territory in the Western Caribbean Sea with a 264-square meters area comprised of three islands: Grand Cayman, Little Cayman and Cayman Brac located in south Cuba and northeast Honduras between Jamaica and Yucatan Penisula (Mexican Territory) with its The capital city: George Town.
The first question is why a Chinese company with its shares in the United States market should have its headquarter in Cayman Islands?
One may suggest because it is an offshore tax haven where the government imposes no income or corporate taxes, and since the 1960s, it has become one of the world's most sophisticated banking centers. But is it all?
"Foreign policy is controlled by the United Kingdom, as the islands remain an overseas territory of the United Kingdom. Although in its early days, the Cayman Islands' most important relationships were with Britain and Jamaica, in recent years, as a result of economic dependence, a relationship with the United States has developed.
Though the Cayman Islands is involved in no major international disputes, they have come under some criticism due to the use of their territory for narcotics trafficking and money laundering. In an attempt to address this, the government entered into the Narcotics Agreement of 1984 and the Mutual Legal Assistance Treaty of 1986 with the United States, to reduce the use of their facilities associated with these activities. In more recent years, they have stepped up the fight against money laundering, by limiting banking secrecy, introducing requirements for customer identification and record keeping, and requiring banks to co-operate with foreign investigators.
Due to their status as an overseas territory of the UK, the Cayman Islands has no representation either in the United Nations or in most other international organisations. However, the Cayman Islands still participates in some international organisations, being an associate member of Caricom and UNESCO, and a member of a sub-bureau of Interpol."
Grand Cayman Island; Photo by NASA, Public Domain
According to Express Co UK, "Thanks to this tax-free status, Cayman has built a finance industry that's brought one and a half trillion pounds into its banks. Cayman's politicians and financiers, its millionaires and the ordinary British expats who've built a life here in the sun. There are 100,000 companies in Cayman as a whole, compared to a population of fewer than 59,000 meaning there is approximately 1 and half trillion pounds in the banks.
This is the equivalent £26.57 million per person.
There are however indirect taxes on goods and services. An average family with two children spends approximately £1,000 a month on groceries.
And the average 4-bedroom house costs nearly £2 million."
********************************
The next question is why a Chinese pre-school education company in a Communist country is so rich??
Cayman is a British dependency near to Miami and Cuba and a handy drop-off point for money laundering so free that local crime lords can actually wait on the beach and collect bags of cash chucked out of planes and oh be careful not to ask any questions because even asking questions can put you in Cayman's jail as an article in June 2016, Newsweek revealed: "Cayman retains many secrecy features — not least a law that can put people in jail not just for revealing confidential information, but merely for asking for it."
"But merely for asking for it"… Interesting.
The main shareholders of this company are Ascendent Rainbow (Cayman) Limited, and Cao Chimin & Shi Yanla who are the founders.
Guo Wengui AKA MILES GUO; The Billionaire in Exile and The New York Times
He has damning information about many key figures in the government and at the same time, he has enough money to dedicate to his campaign. Guo, whom his brother was killed by the Chinese regime in 1989, has bought his extravagant 8000 square foot apartment in Manhattan for $68 Million, producing and broadcasting contents on YouTube, his website, twitter and other platforms to fulfill his promise and fight the government. He has close ties to multiple Chinese intelligence agencies. In China the public and private sectors are stringed. They're practically the same. However, there is a big problem. The western media, as usual, publishes an interview with him but portrays him as a narcissist who cares about nothing but his image and his money and they do this to formulate people's perspective in a direction to label him as a crazy person with crazy and unprovable accusations.
That is the influence of the Chinese trolls. While reading the article about him on the New York Times Magazine, the set tone of the author was astonishing. It reminded me of the days of primary school when teachers repeat certain phrases to carve the terminology on children's minds. It was not journalism but pure propaganda and that is quite normal these days. The author was portraying something which was not the substance of the news but an artificial ingredient and whenever this happens, my rings bell: "They are trying to do the opposite of what they say". They are merely interviewing Guo to destroy him so this Guo must be an asset to us.
Guo's claims are conspiratory for the media as usual because he openly talks about pedophilia and directly accuses the highest-ranked politicians of China.
Is that a crazy accusation for us too? Do we not know pedophile ring headquarters reside in Courts and Palaces and Presidential residences and also the BBC and oh….where did the director of the BBC go after Jimmy Savil's scandal and what did he become??
He became the CEO of the New York Times.
In my article "BBC, The Pedophiles' Sanctuary" we read:
"His Scandals (Savile's) came out in 2012 just after his death. By emerging the scandals Mark Thompson, was the Director General of the BBC from 2004-2012, right during the peak of his (Savile's) child abuse, Thompson left the BBC and became the CEO of the New York Times. Any wonder why the New York Times is a die-hard anti-Trump and the leaker behind the phony dossier?"
But why Guo is hated so much? Is it because he is a lofty billionaire who lives with high standards of Manhattan? It can't be so because many extravagant billionaires are well praised and paid a huge sum of money only to speak in a conference and teach people how did they get there.
Is it because he is Chinese?? It can't be so either because if so, the New York Times and the rest of them should be so racist to attack an Asian man for no reason.
Is it because he attacks anyone in America or its culture or somehow offending anyone? No again. He just accuses the government of China and he has a LIST of names with their positions, their wealth, the report of their corruption and he hates Communism as he lived it and this should be the reason but not only.
The Communist government had issued many warnings, and campaigns against Guo. An army called "50 centers army" has been deployed in cyber environment to write against Guo, fight him and make him look ridiculous. Not yet enough, the Chinese government has asked Interpol to arrest him. Beijing also asked Trump administration for his extradition to China. Ummm… This much effort seems TOO MUCH for a crazy ridiculous man with exorbitant claims, isn't it?
For those of you with no knowledge about how the communist systems work, we refer to just a few points that may help to visualize the severity of the situation.
In a Communist country:
1-People are either with them (the government) or against them.
2-The only way to be accepted in their inner cycles is either being from a family who has served them or being recommended by an individual within the system.
3-The news channel is an onion system in which nobody has access to the core except the inner cycles. They determine what to say, how to say, and how many times a day/week to repeat the mantra. When an international event happens, the event is first discussed amongst the cycle, its 360-degree impacts and various probabilities are estimated before designating how the event can benefit/harm the government which all together will determine how the news should be presented; of course "if" broadcasted.
4-The interactions amongst the inner cycle elites are a matter of full secrecy. No bank or news agency is allowed to publish anything without the government's permission. The scandals happen within the inner cycle but will never be published or talked about openly in anywhere from the mainstream media to the social media or any outlet. People may talk about miner issues in parks and supermarkets but even normal people are afraid to harm their "social score" which is a system that assigns scores to people according to their obedience to the government and if they miss these social scores to a certain point, they are not allowed to buy or sell a house or a car or any property, preventing them from receiving a bank loan or signing a lease or even using the public transportation vehicles. This social credit assesses an individual's behavior to purify society. If the score goes negative, people are stripped from their very primitive rights.
This is not your grandfather's Stalin era communism. This is an amalgamation control system based on all dictatorships in history including Stalin, Hitler, Mao combined.
This is what mainstream mafia hides from people because they are under Chinese control and trying to sell the recycled Communist system through socialism which I mentioned in a tweet on March 11, 2019.
The police are equipped with face-recognition looking glasses. Checkpoints are settled in the streets, parks and bus stations. If a citizen acts "inappropriate", he/she will be shamed on public screens with their phone numbers and home address demonstrated on billboards. Those who speak against Communism take "bad-citizen D score.
The European Union governments have started advocating the same structure by justifying the use of microchips. To be eligible for some jobs, employees need to be microchipped and the brainwashing is performed by presenting microchips as a substitute for codes, keys and usernames. All European Union and the United Nations' actions are aligned with the Chinese "person of interest" version of a government.
5- In a communist country, one can buy his way in if he pays big $$ under table. The system is capitalist for the one percent and communist for the  99 percent. People at the bottom of a pyramid work and pay and people at the middle or top of the pyramid still pay but for different reasons to different entities. At the top, they pay to be the top and to hold and preserve their  position while at the bottom, they pay to survive. However, being at the top doesn't mean having full access to full power. There are always those who monitor. Therefore, one can see things, know names, hear secrets but there will be no way to register scandals or to steal documents as from where he is to where he needs to flee, many gates he'll have to pass.
Now, back to Guo, he could flee, and his money has been the reason but that is not our concern. Our focus is on his claims. The logic for us is: The second superpower on earth, won't waste its resources to chase a crazy individual.
He sets up a website, calls politicians, arranges interviews and podcasts. He calls Steve Bannon and Steve visits him in Oct 2017. Strangely, after visiting Guo, Bannon visits Jeffry Epstein on August 11, 2018, before his incarceration.
The mainstream mafia immediately launches its smear campaign, picturing Steve as a flushed out vagabond in search of money from both Guo and Epstein and that just makes us laugh. Had it been Bannon not having anybody else to ask money but Epstein was another desperate claim to shape the public's opinion before they even try to think or hear the news.
Did you know Bannon met Epstein? Could his visit be connected to him visiting Guo? Is it possible that Guo has named names and Steve considered the possibility OR offered some deal that could encourage Epstein to OPEN his mouth?
Guo has appeared on Bannon's War Room TV, very often especially after Coronavirus pandemic which Guo openly accuses CCP of creating and spreading the virus.
But what does Guo say to spark this incredible outrage?
Here is the collection of some of his accusations gathered mainly on his website which are quoted here exactly as they are stated on his website.
START QUOTE: *******************************************************************
–"Previously, we disclosed information given to us by Mr. Guo that Wang Qishan is the leader of a large pedophile ring centered around the corruption of the Buddhist religion. This is part of a vast "Psychological Warfare" operation being conducted against the West in order to rationalize the ability of the CCP to bring Tibet to heel."
–"In a previous article 'The Farm: The Key CCP Cultural Difference', we covered the company "RYB Education" (NYSE: RYB) and the fact that it is merely a company serving as a ring for pedophiles to get direct access to children. Miles has gone into some more depth on this company and the general 'rape culture' enforced by the CCP on its ranks."
—"This means that far too many people know about it (the pedophile ring) to keep it a secret anymore — including the high ranking CCP party members and the Western elite who engage in this corrupted activity."
–"we know that Wang Qishan — the "Vice President" of the CCP (and therefore China) — is being accused of being the head of perhaps the largest international pedophile access ring in human history. While institutionalized in China by the CCP, these activities are forbidden as part of the United States legal system. Under the guise of "双修" (pronounced Shuang Xiu) — which is a corruption of Buddhism and means "double cultivation" — these sickening activities have gone on for decades. In the West, we have again received indisputable confirmation that our own elites were taking part in these activities in secret in secluded places like Little St. James. Mr. Miles specifically mentions that numerous Western elites participate in "双修" and are therefore under the direct control and influence of Wang Qishan and his faction."
(Author's note: "Double Practice" has mentioned many times in his broadcasts and writings. Listening to him and having a record in crimes related to pedophilia, what he means sadly means sodomizing children in general and using their genitals and their bottoms simultaneously in particular.")
–"We should be demanding that our recently empowered intelligence agencies gain access to the names of individuals associated with this type of evil activity as part of their efforts to curb global child trafficking as well as other coercive methods of corporate espionage and blackmail. We would call on our government to immediately de-list "RYB Education" as it does not morally align with Western value systems in any way. The blackmailing opportunities afforded to entities like "RYB Education" and individuals like Wang Qishan work in tandem with the CCP's overarching plan to dominate the planet."
–"Meng Jianzhu, the head of Communist China's administered police force, was the owner of RYB education company."
–"This is why the CCP contributes to altering our national discourse. This is so that the people of the United States don't see. The very idea that white supremacy played a role in the detention of Meng Wanzhou (the CFO of Huawei) is an indicator that the CCP has arrived in our language. Meng Wanzhou was charged with "bank fraud, wire fraud, and conspiracies to commit bank and wire fraud" for a variety of crimes. In sum, with its current ties to the CCP military and intelligence apparatus, Huawei is a simply a next-generation Trojan horse masquerading as faster internet."
–In 2017, a Kindergarten was demolished by CCP officials in an effort to cover up a ring of child abusers. RYB Education (a company listed on NYSE) was operating a ring for pedophiles out of a hotel in Beijing. When the ring was exposed, the Kindergarten was demolished entirely to hide the evidence, and the parents of the abused children were arrested for making the complaint in the first place. Meng Jianzhu, the head of Communist China's administered police force, was the owner of this company. We do not know his fate at this time."
Photo from gnews captioned: Demolished RYB kindergarten in Beijing. (First-hand photo)
Translation of RYB parents chatting on gnews.org
–"The "double practice" is an important piece of evidence that we will use to prove the not only is the CCP an evil organization, it is also a cult with ideology roots whose members engage in unspeakable rituals. Wang Qishan is the head of this cult in advocating the "double practice".
01:04–Our broadcast yesterday was quite sobering for many. Many people couldn't believe all the sexual scandals and violence that Miles exposed about the main antagonist yesterday, "Double Practice Chen". And it is completely understandable for people to feel shocked because no normal human being engages in those kinds of acts."
–"08:55–The "double practice" that Chen Feng prescribes to has nothing to do with the Tibetan Buddhism.
10:05-Is Chen Feng really doing the "double practice"? The Lotus Buddha was prosecuted and almost got exterminated in India. Yet when it spread to Tibet it became instantly popular and was used as an excuse by the top CCP party officials to cover up their promiscuous lifestyle."
–"The RYB Kindergarten is a major hub for the CCP official to select young girls for them so that they could engage in "double practice" and sexually abuse and assault these innocent young children. 
–"25:30–A lot of people arrested by Wang had the crime pruriency charged against them because those people are kinda aware of the entire scheme behind the so-called "double practice". Xiao Jianhua, for example, supported a lot of modeling companies while he was in power. The "double practice" is a tactical play by CCP to control the Buddhist religion."
–"20:00–Under Wang's discretion, RYB prospered and even went public in NYSE. The boss behind RYB is Meng Jianzhu. Miles also said that a lot of actors and actresses had been "double practiced" even before they turned 16. Only after they had been "double practiced" will they be allowed to make a carried in film."
–"22:50–Wang Qishan is the "your holiness" in this cult, it is headquartered in Hainan province, or "peach blossom island" as some might call it. A lot of the cult's leaders live there. RYB refers to virgins under 16. A lot of actors and actresses became famous at a very young age very suddenly, and it is all because they had been "doubled practiced" by powerful CCP bureaucrats."
–"35:20–Wang Qishan, "the Lord of the Darkness", has trained a lot of white gloves and corrupt officials in Hainan, one of those people is Pan shiyi. If we think that "double practice" is morally correct then we should no longer deserve to live in this world. The CCP is a cult, and Wang Qishan is widely accepted to be the holiness of this cult."
–"52:45–Miles said that he will never talk for Tibetans again if they still think that "double practice" is morally correct after what was said here today. Miles said that anybody wishing to embrace "double practice" will be risking enraging the lord and facing karmas.
–55:20–Wang and Chen spreads their cult and their sociopathic-pedophilic sexual practices in the name of Buddhism. Miles said that his solution to life is definitely not double practice. He advocates for treating others just as you would like to be treated.
–58:06–Yang Jiechi frequently rapes underage virgin girls for his double practice. Wang Qishan keeps secret recordings of everybody's double practice session to blackmail them into being his running dogs."
–"60:36–The RYB kindergarten is a key element of Wang Qishan's "rule by penis", supplying him with innocent teenage girls. Miles called on the Tibetan Buddhism communists to resist the so-called "double practice" and fall into the traps of Wang Qishan and Chen Feng."
END QUOTE*****************************************************************************
This is  a photo on his website
2-There are verified rumors about Coronavirus build in a laboratory in China.
Now he has launched a campaign against Chinese lies about Coronavirus and the real situation of people in China which is extremely different from what China broadcasts and the Western Media is deliberately hiding the severity of the problem. According to Guo, the media intentionally hides the intensity so the virus becomes internationally uncontrollable. This is just one of the videos featured on his website exposing what is really going on in China and it is horrific. Guo says on Feb, 29, the situation will intensify.
http://blob:https://livestream.com/8f0a87d0-61c3-4010-971e-6c4a3fa2647f
http://blob:https://livestream.com/8f0a87d0-61c3-4010-971e-6c4a3fa2647f
Miles Guo: "CCP ordered Guo Deyin to create Wuhan coronavirus."
"The Chinese Communist Party (CCP) has finally admitted publicly that the Wuhan coronavirus does NOT come from nature. It is artificially created and has nothing to do with bats or seafood market as the CCP previously claimed."
Miles Guo: CCP ordered Guo Deyin to create Wuhan coronavirus
Photo by PETE SOUZA/THE WHITE HOUSE. Published in Wall Street Journal: Wang Qishan with President Obama at The White House in 2009
3- Evidence of Chinese censorship and propaganda in American media including major news channels and newspapers.
If we consider the possibility of Coronavirus being man-made, the game players cannot be only the Chinese government. We will investigate the silence of the media and not the nature of the virus. While reading different articles on news outlets, either about Chinese pedophilia or Coronavirus, I noticed the complexity of Chinese trolls which is in no way comparable with Media Matters' professional trolls.
Media Matters' trolls are very primitive, appearing on President  Trump's twitter and the main news cycles, also on Trump supporters' articles/tweets. They don't read the piece on which they are trolling and have a very limited vocabulary. The tone is either abusive or scolding. Their more professional trolls are disrupters, agitators and propagandists who write smashing articles on the Daily Beast and similar outlets. The CNN and The New York Times political activists (no journalist anymore), write better articles but even at their best try, the only substance is "The orange man is bad", "you should think as we say" and "you are simply enough stupid to believe otherwise".
Chinese trolls instead, act very deep. First of all, Chinese people have one of the highest IQ levels. Chinese apparatus is wise, tells stories and leads the ordinary reader to absorb the story behind the image. They have a deep understanding of the article and depending on who is the person of interest, they attack the subject on many levels. This sis how they operate in general:
1st: They shoot the messenger by making personal attacks concerning the look, or character, with the intention to lead the conclusion that the subject is incapable and therefore, not worthy to listen.
2nd: Ad hominem attacks starting with praising ONE thing just enough to attack five other things.
3rd: Their talking point is: "China is wonderful"; The CCP cesspool is run wisely and it has the best economic system.
4rt: They have encryption capabilities.
Chinese trolls spread propaganda to leave people in doubt of all news sources, suspicious of their neighbors, picking what pieces of information to believe. In Ancient China, it was a double benefit and a common practice to only promote corrupt functionaries. Because they were corrupt, they could be removed at any time, so they followed orders while the emperors could continue their corruption with no effort. Communism is no better or different. Corruption is the norm. According to Guo, there are probably 25,000 spies in America who are working for Beijing.
Just look at the title of the Western news on Freebacon:
1-

Think Tank Cancels Talk by Chinese Dissident Under Pressure from Beijing
Hudson Institute hit with cyber attack traced to China prior to postponing session with Guo Wengui
2-

YouTube Suspends Account of Chinese Dissident
China stepping up information operations against exiled billionaire
3-

American Social Media Silence Chinese Dissident
Twitter follows Facebook, YouTube in restricting access of Beijing critic Guo Wengui
4-

VOA Fires Two More Reporters for Chinese Dissident Interview
Critics say official U.S. radio caved to Chinese pressure
5-

FBI Eyes China in Posting Hacked Documents on Chinese Dissident
DC law firm drops Guo Wengui asylum bid after sophisticated cyber attack
6-

Beijing Suspected in Hacking Yacht Owned by Chinese Billionaire
FBI investigating possible electronic sabotage against dissident's ship
7-

China Steps Up Disinformation Effort Against Dissident
Guo Wengui denies Chongqing police allegations of document forgery
8-

China Intervenes to Block Businessman From Revealing Spying Secrets on VOA
Guo Wengui details PRC intel operations, a potential intelligence windfall for FBI, CIA
And the attacks go forever, reported in hundreds of articles. As you see Beijing is officially at war with Guo and that's the only indication of how serious should we take his warnings: Absolutely serious, but what is horrifying here is that the censorship has happened in American media and that cannot be possible unless the Chinese are dominating the American news cycle.
This is part of his interview with The Freebacon:
"Beijing's spy networks in the United States include up to 25,000 Chinese intelligence officers and more than 15,000 recruited agents who have stepped up offensive spying activities since 2012, according to a Chinese dissident with close ties to Beijing's military and intelligence establishment.
"I know the Chinese spy system very, very well,"I have information about very minute details about how it operates. I learned about Chinese spy activities from Ma Jian, a former MSS vice minister, and Ji Shengde, former PLA military intelligence chief.
Ma was director of MSS's No. 8 Bureau, in charge of counterintelligence against foreign targets—including diplomats, businessmen, and reporters—until he was swept up in a Beijing power struggle in December 2015. He was expelled from the Communist Party and imprisoned in January."
According to Guo, Ma was imprisoned because he had uncovered details of corruption by China's highest-ranking anti-corruption official, Wang Qishan.
Ma said in a video made public by the Chinese government several weeks ago that he worked with Guo in assisting Chinese national security.
Regarding, Ji, the military spy chief, Guo said he had close ties to him and turned down requests from Ji to work as a smuggler for 2PLA, as the military spy agency was known.
Ji was implicated in the 1990s scandal involving Chinese funding of Bill Clinton's presidential re-election campaign. In China, he was given a suspended death sentence by a military court in 2000 on charges of bribery and illegal fundraising.
Ji lives in China and his wife currently resides in Los Angeles, and Guo said he paid money to Ji for 25 years as part of China's use of businesses to support intelligence activities.
"I know Ma Jian had been working state security system for over 30 years," he said. "And he was responsible for sending out spies as well as for counter espionage, also vis a vis the U.S. So, Ma Jian knows everything about the United States."
In May, two senior Chinese security officials traveled to the United States as part of a bid to pressure Guo into keeping silent, and not disclosing secrets about corruption among senior Chinese officials, as well as details of the intelligence activities.
The two officials, Sun Lijun, vice minister of the Public Security Ministry, and an aide, Liu Yanpang, also tried to convince Trump administration officials to forcibly repatriate Guo back to China amid claims of corruption.
Liu was arrested by the FBI for violating visa rules and his cell phone and laptop computer were confiscated before the Chinese official was allowed to leave the United States.
The Chinese officials, during meetings in Washington and New York and by phone, threatened Guo, his family, and business associates and said that if he remained silent, the government would release assets of Guo's that are frozen in China worth an estimated $17 billion.
Over the past several months Guo, who also uses the name Miles Kwok, began posting lengthy videos on Twitter and YouTube disclosing what he knows about Chinese corruption and intelligence activities.
One of the more explosive disclosures during an interview involve Wang Qishan secretly invested in California real estate since the late 1980s and has turned $30 million in purchases of 111 properties into an estimated $2 to $3 billion today.
Guo says he plans to detail Wang's U.S. investments in a video to be published next week. The residences include homes and apartments in Washington and Bethesda in the east, and in California in Los Angeles, San Jose, Cupertino, Sunnyvale, Palo Alto, San Carlos, and San Francisco. The video also shows a series of mansions owned by Wang family members in Saratoga, Calif. In total the residences cost $12 million and are worth some $30 million today.
One neighborhood in California of 14 houses owned by Wang or his relatives has been fitted with special underground silos that are used to store jewelry and documents, Guo said.
"If the FBI could go in there and get those documents, then they can negotiate with the Chinese government," he said.
Guo said that Chinese intelligence operations in the United States sharply increased after the 2012 Communist Party Congress that brought current leader Xi Jinping to power.
"Before 2012, cumulatively China had around 10,000 to 20,000 agents working in the United States," he said. "These agents had been sent to work in the United States over a 50 year period of time, and they were working in a defensive mode."
According to the businessman, defensive intelligence was mainly focused on learning about the United States. The operations then shifted in 2012 to "offensive" spying, he said.
"By offensive [operations], I mean to be ready to destroy the U.S. in ways they can," Guo said.
China's budget for intelligence gathering before 2012 was around $600 million annually.
Around 2012, a decision was made by Chinese leaders to dispatch another 5,000 spies to the United States. "Some of them were sent as students, some as businessmen, and some as immigrants, but all together, 5,000," Guo said.
"In addition to that, they developed between 15,000 to 18,000 other spies, and these are not directly sent but these are developed within the United States."
The recruited agents are not limited to Asians and Chinese-Americans but include all ethnic groups, including Hispanics, Blacks, and Caucasians.
"And now the budget is between $3 billion to $4 billion annually, and this is information up to one month ago," he said.
Guo said American counterintelligence agencies face several problems, mainly a lack of knowledge about Chinese intelligence agencies.
"You don't know which organizations in China are responsible for sending these spies, how they are managed, and to what purpose," he said. "And the U.S. adopts a very legalistic perspective to look at the question of spying. Yet, for China their methods are not what the United States understands."
"These spies, when they come to the United States, they could sleep around, they could put poison in your glass of wine to kill you; completely unscrupulous," he said.
"The first is to obtain military weapons-related technology. This is priority No. 1," Guo said.
Second, Chinese intelligence is engaged in "buying" senior U.S. officials personally, and a third objective is buying family members of American political or business elites "with a view to getting intelligence and to make big business deals in China's favor," he said.
A fourth priority is penetrating the American internet system and critical infrastructure by implanting malicious software.
"And they have successfully penetrated all the major defense weapons suppliers of the U.S. government," Guo said, adding that "the scale of their operations is mind boggling."
Guo said Ma, the MSS vice minister, told him that a major shift by the Chinese was expanding the scope of agent recruitment from Asians to mainstream ethnic groups.
"This is where the biggest danger lies," he said. "It's clear the situation is getting more and more dangerous now. The United States has the best weapons in its arsenal, such as laser weapons, etc. Yet, the Chinese spy system has penetrated into the bloodstream of American defense establishment with their viruses and everything else."
"The United States is bleeding and is unaware that sooner or later the United States will run out of blood," Guo said.
Also, the United States is overly reliant on technical spying while China has an asymmetrical advantage in using its tens of thousands of human spies.
China also is working to subvert the United States by working together with rogue regimes, such as those in North Korea and Iran.
"So in a fight between rogues and a gentleman, the rogues will always win," he said, "because the gentlemen fight a civilized war. The rogues do not fight a civilized war."
Guo said Americans need to understand that China is not ruled by a normal government.
"You should look at it as a mafia-like organization," he said.
Second, to understand China, Americans need to study the relatives of the ruling elite in China.
"Once you get to know the interests of these powerful individuals and also the family members, then you get to understand how the regime operates," he said.
Guo warned of the dangers of a world dominated by the current anti-democratic Chinese system.
"If we do not have the United States exercising some kind of control over the world system, the world will turn into a place where men eat men," he said.
……………………………………………….
4-Evidence of some American universities run by the Chinese government.
Chinese infiltration in Harvard and Yale universities and JP Morgan.
Prosecutors say he was paid $50,000 a month by the Wuhan University of Technology in China
BOSTON (AP) — A Harvard University professor has been charged with lying to officials about his involvement with a Chinese government-run recruitment program and his affiliation with a Chinese university, prosecutors said Tuesday.
Charles Lieber, chair of the department of chemistry and chemical biology was arrested at his office at the prestigious university Tuesday morning and charged with lying about his participation in China's Thousand Talents Plan, a program established by China to recruit people with access to and knowledge of foreign technology and intellectual property.
He was expected to appear in court later Tuesday. His attorney didn't immediately respond to an email sent Tuesday."
Prosecutors say under Lieber's Thousand Talent's program contract, he was paid $50,000 a month by the

Wuhan University of Technology in China and

 living expenses up to $158,000.

He was also awarded more than $1.5 million to establish a research lab at the Chinese university

, prosecutors said.
(What happened here?? Wuhan University of Technology paid a Harvard professor,Charles Lieber, chair of the department of chemistry and chemical biology , $158,000 a month and awarded more than $1.5 million to establish a research lab in WUHAN?? Chemical biology?? Just when Coronavirus comes from Wuhan and Miles Guo claims that Wuhan is biological warfare designed in a university lab in Wuhan, China??)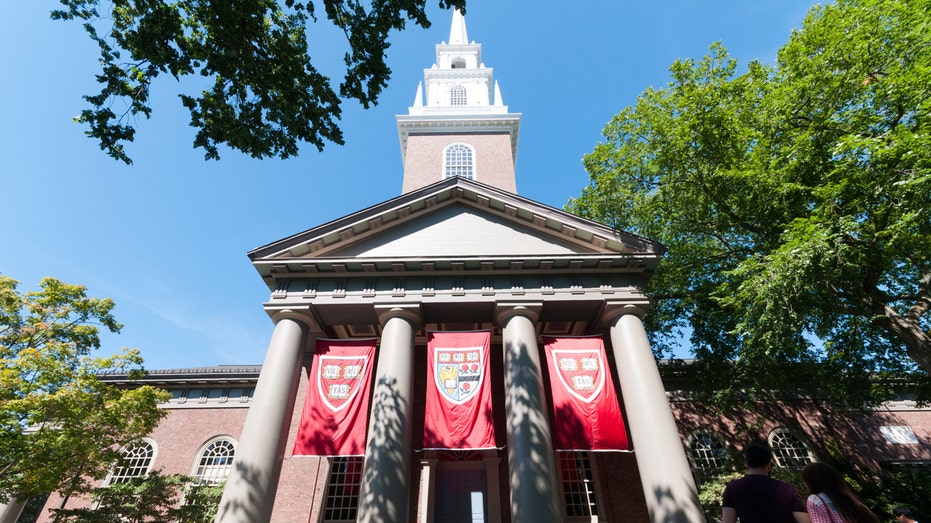 The case reflects ongoing Justice Department concerns that universities are failing to report foreign sources of funding that their professors receive, particularly from China. Federal prosecutors across the country in the last year have charged multiple scientists working in the United States with hiding research grants from Beijing and with pilfering research so that it can it be used for China's economic gain. Officials have sounded the alarm in particular about talent recruitment programs that they say are thinly veiled efforts to seize on American research.
"U.S. government investigators are seeking information about Wang Qishan, the powerful official leading China's anti-corruption campaign, in connection with their probe of J.P. Morgan Chase & Co.'s hiring of relatives and associates of Chinese government officials. As WSJ's Ned Levin reports:
The U.S. Securities and Exchange Commission issued a subpoena in late April to the bank requesting all of its communications related to 35 mostly high-ranking Chinese government officials. Mr. Wang's name was first on the list in the subpoena, a copy of which was reviewed by The Wall Street Journal. Prosecutors at the U.S. Justice Department have also requested information about Mr. Wang, according to people familiar with the matter.

The request for information regarding some of China's highest-ranking officials could strain U.S.-China relations. Previous U.S. requests have unearthed accounts of Chinese government officials lobbying J.P. Morgan to employ relatives and friends. According to people familiar with the probe, investigators have already focused on the bank's employment of the son of China's commerce minister, Gao Hucheng, who offered to help the bank if it let his son hold on to his job at J.P. Morgan, according to emails between J.P. Morgan bankers. Mr. Gao is also on the list.

Authorities are carrying out a criminal investigation into J.P. Morgan and other banks regarding a law that bans companies from bribing foreign government officials. Regulators aren't investigating the Chinese officials themselves, and there is no evidence of wrongdoing by Mr. Wang, Mr. Gao or others on the list. Neither official responded to requests for comment."

"The Clarion Project, a watchdog group known for its groundbreaking documentaries on extreme ideologies, compiled a report this month revealing the billions of dollars that colleges and universities in America have taken from foreign entities — including adversarial states.

The Clarion Project launched its probe into foreign investment and influence in the American education system after the Department of Education (DOE) announced in June it was investigating Georgetown University and Texas A&M University "as part of a broader push to monitor international money flowing to American colleges," the Associated Press reported.

Using data the DOE has collected based on a federal law that requires colleges to report contracts and donations of $250,000 or more, Clarion issued a report this month that revealed that, since 2012, these institutions have received more than $10 billion from these foreign entities.

Qatar – which, according to the U.S. State Department, has made gains in fighting terrorism but still hosts entities that sponsor and support terrorism – is at the top of the list with a staggering $1.4 billion dollars given to 28 universities, including $350,874,324 to Georgetown and $376,325,840 to Carnegie Mellon University.

Despite these sky-high figures, Ryan Mauro, director of Intelligence and a Shillman Fellow with the Clarion Project, told Breitbart News that, based on his investigation, the DOE statistics may not tell the whole story on foreign influence.

"These numbers are hard to fathom, but they are likely only the tip of the iceberg," Mauro said. "There are two other figures we don't have: The amount that the schools aren't disclosing to the Education Department as required and the amount funneled by foreign entities using fronts."

"For example, the Iranian regime used a front named the Alavi Foundation to funnel money to universities," Mauro told Breitbart News. "Because that's a U.S.-based organization, those amounts from Iran are not in the records."

"Muslim Brotherhood fronts with ties to terrorism, such as the International Institute of Islamic Thought, are also able to donate to universities without the transfers showing up in these Education Department records," Mauro said.

Mauro pointed to Clarion's investigations into this issue, including an expose released in 2018 on how the Muslim Brotherhood has successfully used a front called the International Institute of Islamic Thought (IIIT) to fund, engage and train academics. The expose included a long list of professors tied to IIIT:

IIIT is a known entity of the Muslim Brotherhood, a foreign organization sponsored by foreign governments. IIIT has been investigated and nearly prosecuted for its links to foreign terrorist groups including Hamas and Palestinian Islamic Jihad. IIIT is known to have received significant foreign funding.

But, because IIIT is based in the U.S. and is (supposedly) a completely independent entity, its donations are not included in the Education Department records of foreign donations to universities and colleges.

"In some cases, the funding comes via government-tied entities with known links to subversion, spying, terrorism and extremist ideology," the executive summary of Clarion's latest report states."For example, the terror-linked Qatar Foundation donated a jaw-dropping $33 million to Georgetown University in 2018."

The June AP report revealed that, in regards to Georgetown and A&M, "records being sought by investigators go far beyond Qatar, and include dealings with China, Russia, and Saudi Arabia, and specific companies in those nations."

"Investigators ordered both schools to disclose funding from Huawei or ZTE, the Chinese tech giants that some U.S. officials call a threat to national security," AP reported. "Georgetown is being asked to detail money it received from any sources in Saudi Arabia or Russia, including Kaspersky Lab, a Russian cybersecurity company."

But these schools are just two of dozens of U.S. schools taking money from these and other foreign entities.

Clarion complied the countries with the largest donations:

Rounding out the top 13 countries after Qatar are: China — $680 billion to 87 schools; Saudi Arabia — $649.9 billion to 63 schools; United Arab Emirates — $230.9 billion to 32 schools; Russia — $99 billion to 13 schools; Kuwait — $65.7 billion to 17 schools; Iraq — $44 billion to four schools; Turkey — $37.7 billion to 15 schools; Lebanon — $5.7; Pakistan — $4.8 billion to five schools; Venezuela — $3 billion to two schools; Syria — $1 billion to Johns Hopkins University; and $1 billion to Harvard University since 2017.

The 87 schools China donates billions to include California Institute of Technology, Columbia University, Georgia Institute of Technology, Massachusetts Institute of Technology, the New York and New Jersey Institutes of Technology, and Harvard, Princeton, and Yale.

Russia also donates to some of the elite colleges in the U.S., including Cal Tech, MIT, Stanford, and Yale.

You can read the entire list of countries and schools here.

While the list itself is stunning, Mauro said it begs a question that should have an answer because of national security implications.

"Here's the key question we need to be answered for every transaction: What are these governments getting in return?" Mauro said. "Do we really believe they make these donations because they care so much about the wellbeing of American universities and colleges? Of course not."

"It's been well-documented how China is funding universities to establish Confucius Institutes," Mauro said. "The expressed purpose of these is to act as bases for ideological warfare by shaping the views of American students."

"We have to assume that the other governments hostile to the West see the same opportunities," Mauro said.

Confucius Institutes are billed as cultural organizations on foreign college campuses that the Communist Party of China funds to help create cultural links abroad and expose international students to Chinese history, language, and culture. In reality, the institutes serve to indoctrinate students in Communist Party propaganda and pressure the international universities they inhabit to toe the party line, attacking anyone who dares criticize the Communist Party or acknowledge realities that Beijing refuses to accept, such as the independence of Taiwan or the illegality of China's occupation of the South China Sea.

The Clarion report also provides more details about why the countries listed in the DEO data, specifically those with dubious standings on terrorism, should make answering the questions Mauro proposed seem urgent.

• Saudi Arabia: Former CIA case officer Robert Baer, wrote in his book Sleeping with the Devil: How Washington Sold Its Soul for Saudi Crude: "Saudi money also seeped into the bureaucracy. Any Washington bureaucrat with a room-temperature IQ knows that if he stays on the right side of the kingdom, one way or another, he'll be able to finagle his way to feed at the Saudi trough. A consulting contract with Aramco, a chair at American University, a job with Lockheed—it doesn't matter.

• Turkey's President Recep Tayyip Erdogan's government has become one of the main patrons of the Muslim Brotherhood and Hamas and is allied with Qatar. He is also improving Turkey's relationships with Iran and Russia at the expense of its relationships with the U.S. and other NATO members. Turkey supports a variety of Sunni extremists, including affiliates of Al-Qaeda, and has been accused of assisting ISIS. Since 2012, Turkey has reportedly been one of the top financial supporters of Hamas, with Erdogan arranging for the transfer of $250-300 million to the terrorist group annually.

• The Chinese government's massive influence operations on U.S. college campuses is now getting mainstream media attention due to numerous exposes regarding China's establishment of over 100 Confucius Institutes on campuses across the country. The Chinese Ministry of Education uses an affiliate named Hanban to transfer this funding. Hanban provides the materials, chooses the activities, and selects the directors and teachers who oversee each Confucius Institute.

Details about other countries are included in the Clarion report.

"These governments don't have unlimited cash," Mauro told Breitbart News. "The only reason they'd keep making these donations is if they are very satisfied with the results."

"What are those results? How are these donations advancing their agendas? And why don't we, the American people, know what's happening?" Mauro said,

"My hope is that alumni, faculty, students, and researchers will take the next steps to demand answers from these universities and colleges," Mauro said.
"An Alibaba Group executive, a graduate of Yale University, has donated $30 million to the Yale Law School China Center. The gift from Joseph Tsai honors his father, the late Dr Paul Tsai, also a Yale alumnus.
Yale will rename its China Center the Paul Tsai China Center in recognition of the donation. The center is dedicated to advancing China's legal reforms, improving US-China relations and increasing understanding of China in the US.
Joseph Tsai graduated from Yale Law School in 1990 and worked at the New York firm of Sullivan & Cromwell. In 1995, he moved to Hong Kong to begin a career in investment management.
In 1999 he met Jack Ma and soon after joined him as one of the founding members of Chinese Internet company Alibaba. Today, he is executive vice-chairman of Alibaba Group and serves on its board of directors.
"Under Professor Paul Gewirtz's leadership, the Paul Tsai China Center will continue its important work at the forefront of the United States' engagement with China," Yale Law School Dean Robert Post said in a statement.
Gewritz is the center's founder and director and also the Potter Stewart professor of constitutional law at Yale Law School.
Joseph's father, Paul, was a native of Huzhou in Zhejiang province, who grew up in Shanghai and moved to Taiwan in 1948. He started at Yale in 1953 and in 1957 was the first graduate student from Taiwan to receive a degree from Yale Law School. Yale also was the first university in the US to graduate a student from China, Yung Wing, in 1854.
When he returned to Taiwan, Paul Tsai became a pioneering figure in the island. For eight years while in local government, he played a leading role in developing policies and laws that contributed to Taiwan's economic growth.
In 1965, Paul Tsai and his father, Ruchin Tsar, established a private law firm, Tsai & Tsai. In private practice, Tsai continued to contribute to Taiwan's growth, particularly in the international arena as he worked to represent multinational clients such as Coca-Cola, Johnson & Johnson, and Sheraton Hotels to attract foreign capital to Taiwan.
As his personal success grew, Tsai became a generous philanthropist, endowing the Myres S. McDougal Professorship at Yale Law School, in honor of his mentor when he was a student, as well as the Paul C. Tsai Professorial Lectureship at Yale Law School."
……………………………………………………………..
Connecting the handful of articles above, a terrifying panorama opens up a new perspective for America. China has silently weaponized American youth and education system against American citizens and the foundation of the United States while corrupt politicians have secured the way and amateurs in the media camouflaged all these attacks by their partisan accusations, constant mockery and claiming superior intellect. Everything they think and believe comes from someone else's words but yet, the news of the Harvard biochemistry professor paid by Wuhan and his arrest is on their own media.
With such a danger threatening the very heart of the nation and its foundation, any other noise by the media is just unfortunate and unnecessary distractions from the main threat. If a biochemistry lab pays millions to a Harvard professor which leads to his arrest, the media still mocks those who see the connection between this arrest and Coronavirus. If an exiled Chines billionaire is naming names, they mock him and those who listen. If their own channels report pedophilia in pre-schools and if children are abused, they mock people to save the elites' names.
And now, the Coronavirus spreads like poison while Chinese infiltrated media and their yes-sir western slaves shut up and perhaps are developing new guilts to throw on Trump for letting the virus in. Their tricks are old, their science is fake, their accusations are boring but they do it anyway.
keeping people in a state of ignorance and using buzz-words to stupify a populace is their job. I'll stick with the facts presented. It is not so much that there is nothing to be found, but rather that the reality and severity of the situation do not conform to the reasoning and intent of the weaponized media. The difference between real danger and buzzwords is so divisively blurred and so masterfully intertwined that people continue to hide their heads in their bottoms while spinning and looking for it.
Recent International documents talk about a "grade event" that will happen before 2025 and will put the nations under the United Nations government. About these documents in one of my articles I wrote:
"This never-ending research finally took me to 2010 where I found two super terrifying documents. One from the United States Intelligent Agencies joint juncture in an EU meeting in September 2010 and the other from the European Union's in November 2010. These joint documents are almost the same. An agreement first announced by one then acknowledged by the other one. You should be shaking while reading it so please choose the right moment and be seated. These agendas ARE NOT agenda 2030 or previously agenda 21. Agenda 2030 is as powerful as it is designed to be and it is not going anywhere, anytime soon unless people understand the danger threatening our lives and move faster toward the great awakening. So as you see we are facing many dangerous plots designed by public officials of the UN, EU, CIA, and WHO.
Global Governance 2025 is a joint agreement between the UN and the EU and is created by the top intelligence agencies of the United States government (including CIA) and the top intelligence agencies of Europe and the report imagines a great unprecedented event that the whole population and governments of the world are so scared that they will all accept to be put under a worldwide government in mutual defense of one another against this unprecedented event. It imagines this event in different episodes as a biological attack, an asteroid or a pandemic but…
As I go forward on page 35, it talks about "the emergence of the new form of humanity"…
This is the closest possible scenario to the "Grade Event" that our document talks about as I didn't find anything else that matches the situation. This is the situation that the Martial Law agenda we are dealing with in this document, is talking about. If any of you have another document, you are welcome to bring it here. But I did my job and I can assure you if there existed anything else, it was already here, on this page.
When these intelligence agencies predict such a catastrophe, believe me, it is not coming from anywhere but themselves. They know what they are doing behind the scenes. They don't just organize these huge meetings and issue reports like these for fun. They don't make the stuff up. They have invested both sides of wars, have created all ISMs and doctrines, have broken the markets, they are behind cancer and many other rare diseases, they know what they are talking about. They are organizing a deadly event around 2025 that puts all governments under a worldwide treaty and organization which that organization needs to pave the way for a big apocalyptic Martial Law type event in 2046."
…………………………………………………………………………………………….
5-Probable cooperation between the Chinese government and high-profile American elites and billionaires.
Is Coronavirus the same pandemic these documents are talking about?
(I personally think it is not and I think the world is not ready for a world government as the self-claimed elites have imagined.)
Since 2016 in my book "RING OF THE CABAL", I have dedicated a chapter to Bill Gates, his engagement in producing vaccines in cooperation with the Rockefeller Center, and his obsession with "overpopulation" and the necessity of "depopulation". This is documented. The videos of Bill Gates's speeches which clearly MENTIONED the necessity of depopulation either through the vaccines or in any other way are linked. You just need to go through the links and watch Bill Gates videos.
Since 2016, Gates has started to warn about a dangerous pandemic happening worldwide.
In December 2016, in an interview with a German newspaper, Gates said: "Take the UN, it has been created especially for the security in the world. We are ready for war because we have taken every precaution. We have NATO, we have divisions, jeeps, trained people," Gates said. "But what is with epidemics? How many doctors do we have as many planes, tents, what scientists? If there were such a thing as a world government, we would be better prepared. A global government was "badly needed".
On May 2nd, 2018, I wrote a post saying: "Bill Gates announcement on a coming lethal pandemic, how he knows, why he knows? A non-physician who didn't go to college; had success only in Microsoft, not chemistry, not medicine, not biology or immunology; knows a lethal pandemic is coming and will kill millions?"
In 2019, through a recently designed event, the warnings about a pandemic occurring worldwide have been molded into a new level. The mere warnings and speculations have been transformed into an official event, organized by powerful global entities and of course, Bill and Melinda Gates Foundation. The event called: EVENT 201, which took place on Friday, October 18, 2019, 8:45 a.m. – 12:30 p.m at The Pierre hotel; New York, was a pandemic preparedness exercise operated by the John Hopkins Center for Health Security, the World Economic Forum, and the Bill and Melinda Gates Foundation.
According to this event, the world will see more epidemics resulting from climate change, shifting and increasing populations, urbanization, deforestation, and globalization. So bear in mind that the future agitations and fearmongering will be related to these subjects.
Representatives of the United Nations, The World Health Organization and many more were present in this carefully designed event, overseeing in detail the impact of a fictional illness called CAPS or coronavirus acute pulmonary syndrome,

which will be another kind of illness similar to

SARS and MERS.
How could they design an event on October 18, 2019, aimed to exercise preparedness for a disease which has really happened just four months later and existed never before??
The scenario was very realistic, a live stream of the event was available to everyone and first, it was presumed that the infection began with animals and then was transmitted to people, then it went through different stages of the pandemic and how the governments and especially the United Nations should conduct the different aspects of the pandemic on behalf of the governments of the world and as terrifying as it may seem, they were dictating the steps that the United Nations should take towards controlling the governments including declaring Martial law, shutting down the internet and severely controlling the information with the excuse of preventing the spread of fear.
The rest of the exercise included  predicting the fall of the economy and preventing the collapse of governments, famine, and terrorism. Seems that they have practiced all the scenario for a unified government. It also included controlling food, transportation, flights, purification of water resources (how? with more chemicals?), more surveillance and everything you could imagine in order to control the pandemic. Particularly they insisted on "disseminating reliable information aggressively" which is another phrase for strict censorship, through both social media and companies educating (threatening) their employees. At some point, they called social media as: "Technological agencies who should understand they are not news agencies."
It was Bradd Connett from Henry Schein Institute who went further and proposed Martial Law on minute 07:55 of this video.
And now the pandemic is here and Bill Gates, the great drop-out university who plays the medical expert and sees us as tax-paying livestock to be eliminated is not going to stop blowing his medical expertise on us. On Feb 24, 2020, he said:
"Coronavirus impact could be 'very, very dramatic,' outlines long-term solutions"–Billa Gates
"This is a huge challenge," Gates said. "We've always known that the potential for either a naturally caused or intentionally caused pandemic is one of the few things that could disrupt health systems, economies and cause more than 10 million excess deaths."
Intentionally caused pandemic? We've always known? Who has always known?
And we are not even going through the patent filed by the Pirbright Institute which was examining infectious diseases in livestock registered in 2015, for the Bill and Melinda Gates Foundation (through Pirbright Institute), and covered the development of a weakened form of the coronavirus to be used as a vaccine stop respiratory diseases in birds. Oh, by the way, Chinese people eat bats and although the Mockingbird media mocks also this, I have seen it with my own eyes so they better just stop talking about this one.
Of course this patent is already old stuff and the mainstream media has powerfully entered the scene and debunked the news which by itself proves how much they are determined to shift the narrative and change the facts to shove their lies into our throats and dictate the day is night and the night is day or the black is white and the white is black. It has become quite disgusting.
The World Health Organization categorizes Coronavirus as the same genre with MRSA (also known as  MERSA) and SARS. Look at this article that I published in Oct 2018 and warnings on spreading MRSA. Look at the lines at the bottom where it talks about quarantine engagement and MRSA.
As for the New World Order and their beloved global government, a global pandemic would be a convenient way of ushering their long-term plan.
Being sarcastic, some 50-80% of the population will be wiped out and Bill Gates will happily live alone on earth and his dream will come true. Besides, the mutating out-of-control Coronavirus will have a vaccine made by Bill and Melinda Gates Foundation and voila! a win-win deal for Billy and the UN Agenda 2030 mentioned in my book AGENDA 2030, AN IMMINENT DANGER TO HUMANITY where we either die from the virus or die from the vaccine or the big tech and 5G.
Nevertheless, common… FEAR has always been governments' tool to control the nations. Pandemics have come and gone and there will be losses. Life has ups and downs. Consider precautions and washing hands and face and disinfecting but don't overreact.
Chinese manufacturing base cannot be replaced overnight. An economic recession can be possible but there are always those who benefit during recessions. Those who start over and those who discover new possibilities.
The world will not end and your life will not end ONE second before or after when The Lord decides so just don't panic.
And now let's end the article with a story. A New York Times bestseller published on May 10, 1981, by Dean Koontz has predicted Coronavirus pandemic. According to the book titled "The Eyes of Darkness",  the virus will come from birds in Wuhan!, spread fast throughout the world and will vanish immediately. The book says:
"They call it stuff "Wuhan-400" because it was developed at their RDNA

lab outside Wuhan

, and it was

the four-hundredth viable strain of man-made microorganisms created

at that research center.
Wuhan-400 is a perfect weapon. It affects only human beings. No other creature can carry it. And like syphilis, Wuhan-400 can't survive outside a living body for longer than a minute which means it can't permanently contaminate objects or entire places the way anthrax and other virulent microorganisms can. And when the host expires the Wuhan-400 within him perishes a short while later, as soon as the temperature of the corpse drops below eighty-six degrees Fahrenheit. Do you see the advantage of all this?"
So you see? Even if they think we are stupid doesn't mean that we are…
And again it said: "just as it spreads fast, it vanishes faster".
Perhaps we are living it.
God bless you all,
Ella.
The creation of a chimeric SARS-like virus has scientists discussing the risks of gain-of-function research.
Ralph Baric, an infectious-disease researcher at the University of North Carolina at Chapel Hill, last week (November 9) published a study on his team's efforts to engineer a virus with the surface protein of the SHC014 coronavirus, found in horseshoe bats in China, and the backbone of one that causes human-like severe acute respiratory syndrome (SARS) in mice.
Download PDF here
Author's note at the end of each post: -"Your biggest problem is so small for such a big God"-Ella Cruz" The Bible serves as the blueprint of faith, and the New Testament provides us with God's faith and the power to perform miracles through faith and the name of Jesus. Regardless of the severity of cancer, healing can be achieved through faith in God's word. When Jesus raised the dead, he did not discriminate based on the level of death. He simply called forth life. Let's explore how he did it. The first time Jesus brought someone back from the dead was the daughter of Jairus, an official in Jerusalem. Although she had passed away, she was only recently deceased. The second time was the son of a widow in Nain who had been dead for just one day. Lastly, Jesus raised Lazarus, the brother of Mary and Martha in Bethany, who had been dead for three days. He raised them all. No matter how insurmountable your problem may seem, Jesus is the resurrection and the light. Ella Cruz World's events are happening so fast. Global Governance 2015, Agenda 2030, Agenda 2050, Antarctica, Mars, CERN, G5, The United Nations, The European Union, the Club of Rome, and the false prophets of the Vatican all together, we see that the satanic global government is imminent, and it shall come to pass. The mark of the beast will be obligatory. You are either a Christian or not. If you are, you believe this because it is predicted 2000 years ago in the Bible. But if you are not a Christian, you read the news and notice that the satanic world government is their agenda. Their Global Governance 2025 is terribly close. Their Green New Deal 12-year timeline matches the agenda 2030. We have a short time to prepare ourselves. Born-again Christians are happy and calm. Why? Why do we joyfully dedicate ourselves to the nation, knowing that we will be chased and prosecuted? Because we are dedicated to the Kingdom. "Thy kingdom come; Thy will be done." 1. We firmly believe that Jesus Christ is the Son of the Living God. 2. We hold the Bible as the divinely inspired Word of God. 3. We believe that God loved us so much that He sent His only begotten Son to die on the cross for our sins. Through His precious blood, all our sins are washed away and forgiven. 4. We believe that the price for our salvation, health, prosperity, happiness, and eternal life has been paid by the blood of Jesus. These gifts are freely available to us through the grace of God. By His stripes, we were healed 2000 years ago. 5. We acknowledge that by accepting Jesus Christ as our Lord and Savior, we open our hearts to the Holy Spirit. We are baptized by the Holy Spirit, who dwells within us and communicates with us through dreams, visions, speeches, videos, books, and other means. This communication begins immediately after our salvation. 6. We firmly believe that Jesus Christ remains the same yesterday, today, and forever. As born-again believers, we receive the same DNA as Jesus Christ, with the same miraculous abilities through faith. Just as the apostles performed signs and wonders like Jesus, we too can accomplish these miracles through faith, and the Lord will work through us. 7. We condemn the Vatican's religion and many false prophets who have deceived Christians for centuries, hiding the true message of the Bible and the Good News from people to maintain their power. We welcome all denominations and strive for unity in the body of Christ. 8. We believe that a born-again Christian never truly dies. When a believer's life on earth ends, they are promoted to heaven, and death holds no power over them. In heaven, we experience immense joy, love, peace, and the glory of God. Those who have had near-death experiences or have seen Jesus in a vision or dream know the indescribable relief and joy of being in His presence. To answer the question of why we are happy, we say that we could happily die at any moment. In fact, we long to go home and be with our Lord. However, we know that each one of us has a mission and purpose revealed to us by the Holy Spirit after our born-again experience. For the sake of fulfilling that mission, we remain joyful and relaxed in the spirit, knowing that we are called to save people by preaching the Gospel and bringing them to Jesus. To be born again, you just need to say: Lord Jesus, I accept you as my personal savior, Come to my heart, Forgive my sins, Wash me away, Make me a new person, And live inside of me. In the Name of Jesus from Nazareth, Amen. And that's it. You are saved! Jesus will reveal Himself to you, and your life will undergo a significant transformation. Your marriage, health (especially addiction), finances, and all areas of your life will experience an extraordinary change. And never look back. In Jesus Almighty name. Amen.