FOR IMMEDIATE RELEASE
by Andrew W. Saul, Editor-in-Chief
Orthomolecular Medicine News Service
Published also on Health Impact News
"We can all agree that 50 tons of vitamin C pretty much qualifies as a megadose. We can also likely agree that trucking 50 tons of vitamin C, straight into Wuhan, full in the face of the COVID-19 epidemic, qualifies as news.
The news media are not reporting this, or any other, significantly positive megavitamin news."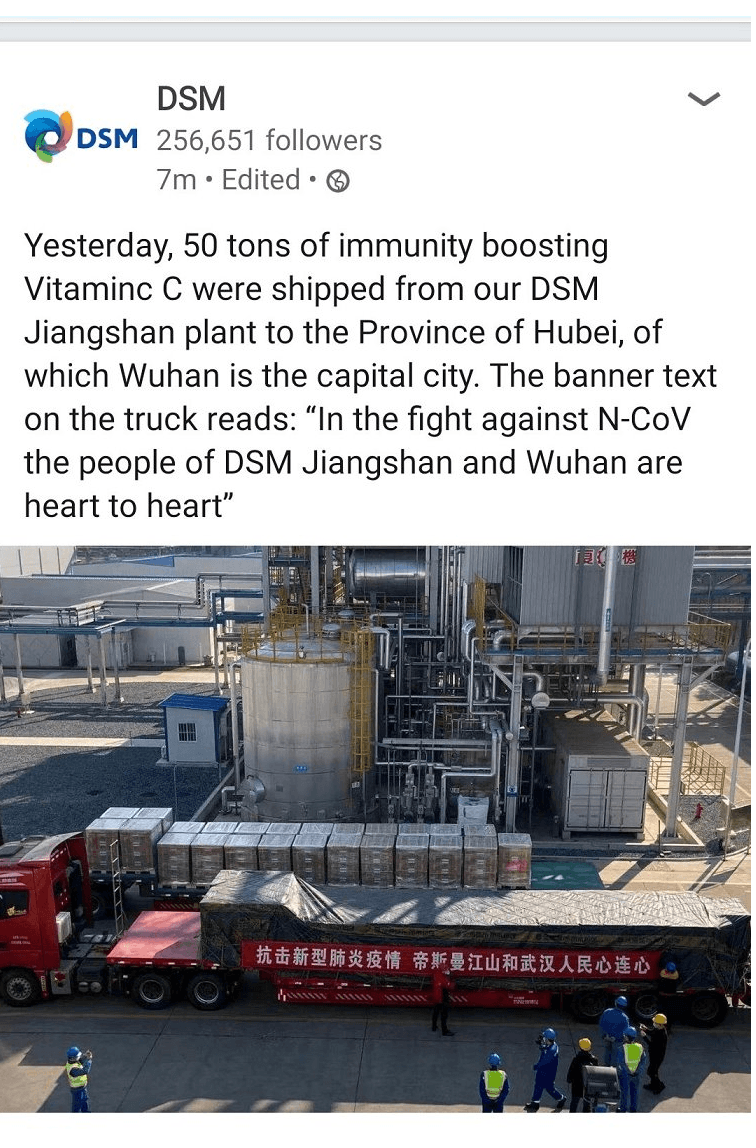 Loving the photo, but needing authentication, I consulted my physician correspondent in China, Richard Cheng, MD. He confirmed it, saying:
"This was reported in the Chinese media about 2 weeks ago."
Another translator has also independently verified the accuracy of the translation.
DSM, by the way, simply stands for Dutch State Mines, the Netherlands-based parent of DSM Jiangshan Pharmaceutical Co., Ltd. The Chinese division has been recognized as a "China Enterprise with Outstanding Contribution to Social Responsibility." https://www.dsm.com/countrysites/locations/jiangshan/en_us/home.html There is another DSM factory in Scotland, which also manufactures vitamin C.
We are so used to being lied to that the truth is like a diamond in a five-and-dime store: you can't believe it is real because it is mixed in with the fakes. News of nutrition-centered treatment of COVID-19 has been branded "fake news" and "false information." I say that what is "false" and "fake" is the deliberate omission of any news of health-saving, life-saving measures already underway to help the people of China and the rest of our planet.
Here is more verified but still unreported news of high-dose intravenous vitamin C against COVID-19 in China:
Summary
1) Three repeatedly confirmed vitamin C for COVID-19 research studies are going on in China now. http://orthomolecular.org/resources/omns/v16n12.shtml
2) Confirmation has also been obtained that 50 tons (yes, tons) of vitamin C has been donated by a major C manufacturer and trucked to Wuhan.
3) The concerned public is receiving only "be-scared-until-we-vaccinate-you" news.
4) Sharing information on COVID-19 vitamin therapy research has now been systematically blocked by Facebook and other social media giants.
5) The news media are not reporting on any of this. Therefore, I ask that you take it upon yourselves to do so and share all this with everyone you can.
Read the full article at Orthomolecular.com.
*********************************************
So my friend Gena, sent me the article above with some good info she practically obtained by using substances bellow as follows. I just copy and paste what she had written in her email:
………………………………………………..
….USING COMMONSENSE PRACTICES – WASHING OUR HANDS WITH SOAP,

(AFTER SHOPPING, GETTING GASOLINE, HANDLING MONEY, USING DOORKNOBS IN PUBLIC

PLACES LIKE BATHROOMS, ETC.)
….AS WELL AS WEARING A MASK IN PUBLIC IF YOU ARE SICK,

(SO AS TO NOT SNEEZE OR COUGH ON OTHERS AND GETTING THEM SICK) PLUS A GOOD DOSE OF
*VITAMIN C DAILY TO KEEP YOUR IMMUNE SYSTEM HEALTHY.  (* VITAMIN D3 IS GOOD TOO!)

LINUS PAULING GOT A NOBEL PEACE PRIZE FOR HIS CONTRIBUTIONS ON THE HEALING

ASPECTS OF VITAMIN C.
NOW IT SEEMS CHINA'S NEWS OUTLETS (BUT NOT OUR NEWS!) ARE SAYING THIS

IS HOW THEY ARE TREATING THE CORONAVIRUS – PLEASE SEE ARTICLE ON CHINA

SHIPPING IN 50 TONS OF VITAMIN C TO TREAT THIS VIRUS.

I MAKE UP MY OWN "DRINK" BY BUYING ASCORBIC ACID IN BULK, (AMAZON OR EBAY).

(BECAUSE IT'S CHEAPER).

….OR YOU CAN BUY "EFFER C" OR  THE "EMER-GEN-C" PACKETS SOLD IN STORES NATIONWIDE
OR ONLINE TO DRINK DAILY.

NOTE:  I put about 1000mg (1/2 teas. of ascorbic acid – vitamin C crystals) in my drinking water

and it's made me feel so much better.  I was continually feeling like I was trying to catch
something but since doing this, I honestly feel great physically.  I drink it daily now. *As well
I am taking D3 (it's like sunshine in a supplement!) in case I am not getting enough sunshine.

You can add elderberry juice or a squeezed lime or lemon or

whatever you want to flavor the water additionally but it's a way to keep your immune system high.
(go easy on the sugar – sugar intake can compromise your immune system).

The lowest-priced brand-new, unused, unopened, undamaged item in its original packaging (where packaging is applicable). Packaging should be the same as what is found in a retail store, unless the item is handmade or was packaged by the manufacturer in non-retail packaging, such as an unprinted box or plastic bag.

www.ebay.com
And now medical teams are using high doses of vitamin C to heal the coronavirus in China! 

Remember, your good health is up to you!

God bless you and feel free to share the info with anyone you think may need it ~

Gena