Just real quick. I am appalled, I am stunned, I am extremely outraged. Today the New World Order puppets installed Agenda 2030 in Canada. Justin toy-boy Trudeau banned rifles in Canada. This is how the Orwellian 1984 begins.
Banning rifles means banning all guns. All those which really serve people. The right to carry is not there for killing a deer but to stand up against tyranny. You can't stand up against a tyrant government with a hunting gun, and they know it better than you. That's why they ban them.  It seems people have forgotten what stands for what. The spirit of obedience is what a tyrant needs.
1-They ban guns.
2-They import non-complying immigrants.
3-They release inmates.
4-They create ghettos and No-go zones.
5-They brainwash the Police
6-Police don't dare responding to no-go zones.
7-This way they transfer power to Criminals over U & the Police.
Gun ban will have no effect on crimes as most of the crimes are gang-related. Right now in this very moment, gangs and criminals in Canada already posses guns and will posses more. Do they access guns legally that banning guns should prevent them? Public safety is affected with concealed carry and unaffected by banning good people defending themselves or their neighbors against criminals.
Whatever ground you give up for fear, you will lose it forever.
This was tweeted by the NRA:
Today is one of those days where every American should be proud of our citizenship & freedoms. But sadly, some aren't. When gun-hating politicians try to ban freedom in America, we remind them of our 2nd Amendment. In other countries, gun ownership is decided by the government.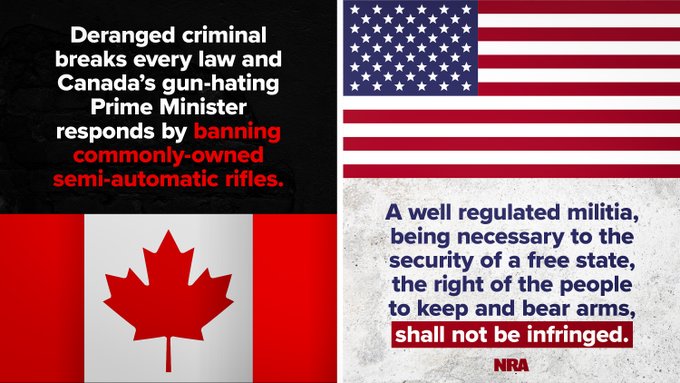 ---
This is an article on RT
1 May, 2020 17:58 

/ Updated 1 day ago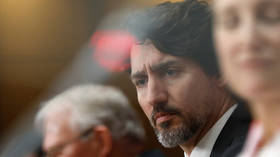 Canadian PM Justin Trudeau has announced that his government will be banning assault-style weapons, in response to last week's Nova Scotia rampage that saw 22 killed.
The disturbing April 18-19 attack saw a 51-year-old denturist go on a wild killing spree, in which he shot his victims with two semi-automatic rifles and pistols, and also torched homes – to be later killed in a confrontation with police. Canadian police said it wasn't immediately clear why the suspect, identified as Gabriel Wortman, went on his 13-hour rampage, while reports have tied his violent breakdown to a property dispute and to alcohol abuse during the lockdown.
Notably, the guns found in Wortman's possession were not obtained legally. This didn't stop the influx of calls for tighter gun controls in Canada, culminating in Trudeau's Friday announcement.
ALSO ON RT.COMDeath toll in Nova Scotia massacre rises to 23 – Police"These weapons were designed for one purpose and one purpose only: to kill the largest number of people in the shortest amount of time," the prime minister said, concluding that "there is no use and no place for such weapons in Canada."
Trudeau's ban will cover 1,500 different models of firearms. It outlaws the purchase, sale, transport, or import of "military-grade assault weapons" that were already classed as "prohibited" under somewhat-convoluted existing Canadian gun law, and gives gun-owners two years to turn in the newly-banned weapons. A buyback program is in the works, though the legislation Trudeau said he plans to propose must pass Parliament first.
The list of banned guns also drew ridicule from some quarters, for the presence on it of actual military weapons – surface-to-air missile launchers, RPGs, and other heavy-duty arms that almost never end up in civilian hands.