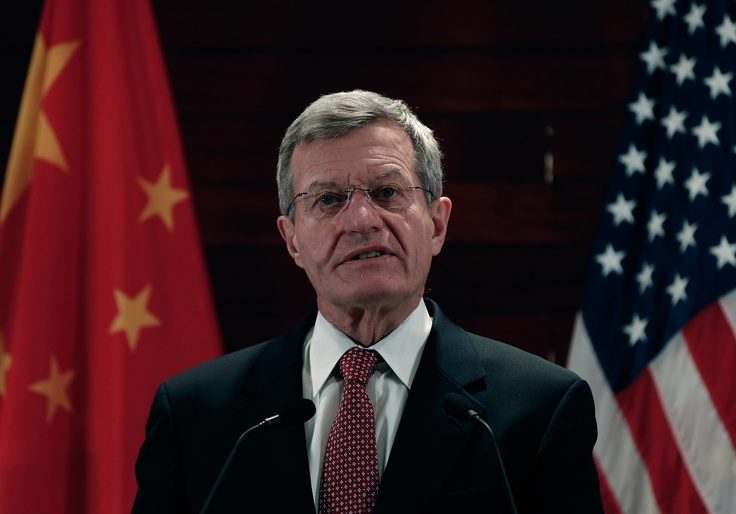 As the novel coronavirus wreaks havoc across the world, the Obama administration's ambassador to China has found a second lease on life as a pro-China talking head on regime propaganda outlets.
Former ambassador Max Baucus has given at least four different interviews to Chinese propaganda outlets in the last two weeks, repeatedly comparing the U.S. rhetoric about China to both the McCarthy era and Nazi Germany.
"Joe McCarthy [and] Adolf Hitler … rallied people up, making people believe things that were really not true," Baucus said during a May 12 interview with China Global Television Network (CGTN), a regime mouthpiece. "The White House and some in Congress are making statements against China that are so over the top and so hypercritical, they are based not on the fact, or if they are based on fact, sheer demagoguery, and that's what McCarthy did in the 1950s."
Since his retirement in 2017, Baucus has been a reliable critic of the Trump administration's increasingly confrontational China policy—chiefly the decision to wage a trade war with Beijing. He once warned that the White House's decision to impose additional tariffs was a "slap on the face" to China. But Baucus's recent comments in the pandemic era have been more sympathetic to China—and critical of the United States—than ever before.
His post-retirement public statements praising China have coincided with his burgeoning overseas investments. In 2017, he founded the Baucus Group, a consulting firm that advises both American and Chinese businesses, according to his U.S. Chamber of Commerce biography. He also sits on the board of directors for Ingram Micro, a U.S. subsidiary of a Chinese state-owned conglomerate, as well as the board of advisers for Alibaba Group, one of China's largest tech companies.
Walter Lohman, director of the Asian Studies Center at the Heritage Foundation, said that it was "inappropriate" for a former ambassador to speak ill about his own government on a foreign propaganda outlet.
"It's like going to China and … talking about your own government that way in meetings. I think that would be pretty inappropriate," Lohman said. "So it would be inappropriate speaking on state media."
Baucus's public statements have received considerable attention from Beijing's propaganda outlets. When the former ambassador compared President Donald Trump's criticism of China to rhetoric used by Adolf Hitler and Joe McCarthy during a May 6 interview with CNN, Chinese propaganda outlets quickly amplified Baucus's comments about how Trump was "a little bit like Hitler in the '30s" and that Americans were worried about "getting their heads chopped off" if they voice their disagreement with the U.S. government's China policy. Xinhua News Agency, a state-owned outlet, extensively cited Baucus's attacks in a May 8 article, using it as evidence that the Trump administration is attempting to "deflect criticisms about their blunders by blaming China." The article was syndicated in party-controlled mouthpieces such as Global Times and People's Daily, according to the Investigative Research Center.
Baucus then appeared on CGTN on May 12 to double down on his Hitler and McCarthy comparison, blaming the Trump administration for flaming "sheer demagoguery."
"[The current U.S. rhetoric] is somewhat reminiscent, nowhere close to that yet, somewhat reminiscent of the McCarthy era and somewhat reminiscent of Germany in the 1930s," he told CGTN.
The former ambassador also gave an exclusive interview to Global Times on May 14, where he said Secretary of State Mike Pompeo's claim that the virus may have originated in a Wuhan laboratory "makes no sense" and accused both Democrats and Republicans of being tough on China to score political points in an election year.
Baucus again appeared on CGTN on May 15, where he claimed that America is "sliding toward a form of McCarthyism" because the Trump administration is pressuring policymakers to be tough on China. The former ambassador did another CGTN media hit on May 16, this time appearing alongside his wife Melodee Hanes, who blamed the presidential election for making dialogue "difficult."
"There are a lot of pretty smart people in the United States who are not speaking up. People in office, moderates, especially moderates on the Republican side," Baucus said on May 15. "They are afraid to speak up, they are intimidated, intimidated by President Trump. And it's kind of sliding toward a form of McCarthyism—how it is politically incorrect to speak the truth, speak the truth to power."
When the Washington Free Beacon called the phone number listed for Baucus's home address, no one answered. A lawyer representing Baucus Group, the ambassador's consulting firm, also did not respond to a request for comment.
While Baucus rarely enjoyed this much attention from Chinese state media outlets after his retirement, this is not the first time he has spoken to Chinese media outlets in recent years. Baucus also gave an exclusive interview to People's Daily in March 2018, criticizing U.S. tariffs on Chinese goods as the "wrong policy" and "too confrontational." He has also spoken at events backed by the China-U.S. Exchange Foundation, a registered foreign agent of the Chinese government according to a 2018 congressional report.
Lohman, the Heritage Foundation expert, said that while Baucus has the right to appear on any domestic and foreign outlets, he should not have addressed a propaganda outlet with the same degree of candidness that he did with CNN.
"I think he must have gotten wrapped up in the media performances because when you shift from CNN to Global Times or CGTN, you've gone to an entirely new level," he said. "And there I think you just have to express yourself differently. It's not an appropriate place to air political differences."
Author's note at the end of each post: -"Your biggest problem is so small for such a big God"-Ella Cruz" The Bible serves as the blueprint of faith, and the New Testament provides us with God's faith and the power to perform miracles through faith and the name of Jesus. Regardless of the severity of cancer, healing can be achieved through faith in God's word. When Jesus raised the dead, he did not discriminate based on the level of death. He simply called forth life. Let's explore how he did it. The first time Jesus brought someone back from the dead was the daughter of Jairus, an official in Jerusalem. Although she had passed away, she was only recently deceased. The second time was the son of a widow in Nain who had been dead for just one day. Lastly, Jesus raised Lazarus, the brother of Mary and Martha in Bethany, who had been dead for three days. He raised them all. No matter how insurmountable your problem may seem, Jesus is the resurrection and the light. Ella Cruz World's events are happening so fast. Global Governance 2015, Agenda 2030, Agenda 2050, Antarctica, Mars, CERN, G5, The United Nations, The European Union, the Club of Rome, and the false prophets of the Vatican all together, we see that the satanic global government is imminent, and it shall come to pass. The mark of the beast will be obligatory. You are either a Christian or not. If you are, you believe this because it is predicted 2000 years ago in the Bible. But if you are not a Christian, you read the news and notice that the satanic world government is their agenda. Their Global Governance 2025 is terribly close. Their Green New Deal 12-year timeline matches the agenda 2030. We have a short time to prepare ourselves. Born-again Christians are happy and calm. Why? Why do we joyfully dedicate ourselves to the nation, knowing that we will be chased and prosecuted? Because we are dedicated to the Kingdom. "Thy kingdom come; Thy will be done." 1. We firmly believe that Jesus Christ is the Son of the Living God. 2. We hold the Bible as the divinely inspired Word of God. 3. We believe that God loved us so much that He sent His only begotten Son to die on the cross for our sins. Through His precious blood, all our sins are washed away and forgiven. 4. We believe that the price for our salvation, health, prosperity, happiness, and eternal life has been paid by the blood of Jesus. These gifts are freely available to us through the grace of God. By His stripes, we were healed 2000 years ago. 5. We acknowledge that by accepting Jesus Christ as our Lord and Savior, we open our hearts to the Holy Spirit. We are baptized by the Holy Spirit, who dwells within us and communicates with us through dreams, visions, speeches, videos, books, and other means. This communication begins immediately after our salvation. 6. We firmly believe that Jesus Christ remains the same yesterday, today, and forever. As born-again believers, we receive the same DNA as Jesus Christ, with the same miraculous abilities through faith. Just as the apostles performed signs and wonders like Jesus, we too can accomplish these miracles through faith, and the Lord will work through us. 7. We condemn the Vatican's religion and many false prophets who have deceived Christians for centuries, hiding the true message of the Bible and the Good News from people to maintain their power. We welcome all denominations and strive for unity in the body of Christ. 8. We believe that a born-again Christian never truly dies. When a believer's life on earth ends, they are promoted to heaven, and death holds no power over them. In heaven, we experience immense joy, love, peace, and the glory of God. Those who have had near-death experiences or have seen Jesus in a vision or dream know the indescribable relief and joy of being in His presence. To answer the question of why we are happy, we say that we could happily die at any moment. In fact, we long to go home and be with our Lord. However, we know that each one of us has a mission and purpose revealed to us by the Holy Spirit after our born-again experience. For the sake of fulfilling that mission, we remain joyful and relaxed in the spirit, knowing that we are called to save people by preaching the Gospel and bringing them to Jesus. To be born again, you just need to say: Lord Jesus, I accept you as my personal savior, Come to my heart, Forgive my sins, Wash me away, Make me a new person, And live inside of me. In the Name of Jesus from Nazareth, Amen. And that's it. You are saved! Jesus will reveal Himself to you, and your life will undergo a significant transformation. Your marriage, health (especially addiction), finances, and all areas of your life will experience an extraordinary change. And never look back. In Jesus Almighty name. Amen.