55 Americans Have Died Following COVID Vaccination, Norway Deaths Rise To 29
Amid increasing calls for suspension of the use of mRNA-based COVID-19 vaccines produced by companies such as Pfizer, especially among elderly people, the situation in Norway has escalated significantly as the Scandi nation has now registered a total of 29 deaths among people over the age of 75 who've had their first COVID-19 vaccination shot.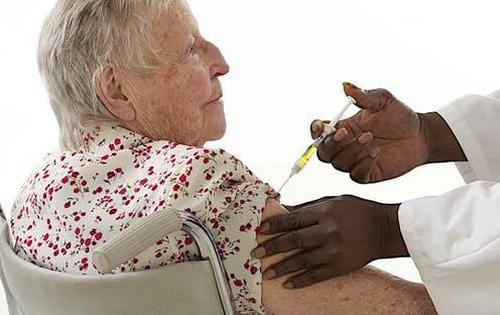 As Bloomberg reports, this adds six to the number of known fatalities in Norway, and also lowers the age group thought to be affected from 80.
Until Friday, Pfizer/BioNTech was the only vaccine available in Norway, and "all deaths are thus linked to this vaccine," the Norwegian Medicines Agency said in a written response to Bloomberg on Saturday.

"There are 13 deaths that have been assessed, and we are aware of another 16 deaths that are currently being assessed," the agency said.

All the reported deaths related to "elderly people with serious basic disorders," it said.

"Most people have experienced the expected side effects of the vaccine, such as nausea and vomiting, fever, local reactions at the injection site, and worsening of their underlying condition."
Norway's experience has prompted the country to suggest that Covid-19 vaccines may be too risky for the very old and terminally ill… the exact group that 'the science' shows are actually at risk from this virus.
Pfizer and BioNTech are working with the Norwegian regulator to investigate the deaths in Norway, Pfizer said in an e-mailed statement. The agency found that "the number of incidents so far is not alarming, and in line with expectations," Pfizer said.
However, it's not just Norway as The Epoch Times' Zachary Stieber reports that fifty-five people in the United States have died after receiving a COVID-19 vaccine, according to reports submitted to a federal system.
Deaths have occurred among people receiving both the Moderna and the Pfizer-BioNTech vaccines, according to the reports.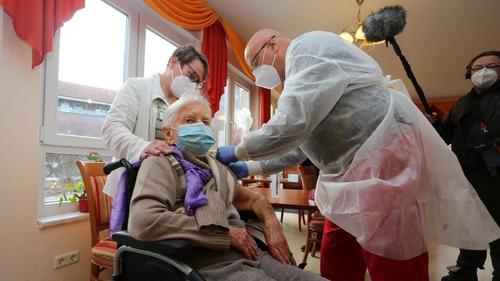 In some cases, patients died within days of receiving a COVID-19 vaccine.
One man, a 66-year-old senior home resident in Colorado, was sleepy and stayed in bed a day after getting Moderna's vaccine. Early the next morning, on Christmas Day, the resident "was observed in bed lying still, pale, eyes half open and foam coming from mouth and unresponsive," the VAERS report states. "He was not breathing and with no pulse."

In another case, a 93-year-old South Dakota man was injected with the Pfizer-BioNTech vaccine on Jan. 4 around 11 a.m. About two hours later, he said he was tired and couldn't continue with the physical therapy he was doing any longer. He was taken back to his room, where he said his legs felt heavy. Soon after, he stopped breathing. A nurse declared a do-not-resuscitate order.
In addition to the deaths, people have reported 96 life-threatening events following COVID-19 vaccinations, as well as 24 permanent disabilities, 225 hospitalizations, and 1,388 emergency room visits.
It's not just the old and frail, in Israel, which proudly lays claim to the greatest vaccination effort in the world (largest percentage of the population inoculated),
As RT reports, at least 13 Israelis have experienced facial paralysis after being administered the Pfizer Covid-19 vaccine, a month after the US Food and Drug Administration reported similar issues but said they weren't linked to the jab.
Israeli outlet Ynet reported, citing the Health Ministry, that officials believe the number of such cases could be higher.
"For at least 28 hours I walked around with it [facial paralysis]," one person who had the side effect told Ynet.

"I can't say it was completely gone afterwards, but other than that I had no other pains, except a minor pain where the injection was, but there was nothing beyond that."
Ynet quoted Prof. Galia Rahav, director of the Infectious Diseases Unit at Sheba Medical Center, who said she did not feel "comfortable" with administering the second dose to someone who had received the first jab and subsequently suffered from paralysis.
"No one knows if this is connected to the vaccine or not. That's why I would refrain from giving a second dose to someone who suffered from paralysis after the first dose," she told the outlet.
Finally, as we noted yesterday following the news of rising post-vaccination deaths in Noway, health experts from Wuhan, China, called on Norway and other countries to suspend the use of mRNA-based COVID-19 vaccines produced by companies such as Pfizer, especially among elderly people.
China's Global Times reports Chinese experts said the death incident should be assessed cautiously to understand whether the death was caused by vaccines or other preexisting conditions of these individuals.
Yang Zhanqiu, a virologist from Wuhan University, told the Global Times on Friday that the death incident, if proven to be caused by the vaccines, showed that the effect of the Pfizer vaccine and other mRNA vaccines is not as good as expected, as the main purpose of mRNA vaccines is to heal patients.

…

A Beijing-based immunologist, who requested anonymity, told the Global Times on Friday that the world should suspend the use of the mRNA COVID-19 vaccine represented by Pfizer, as this new technology has not proven safety in large-scale use or in preventing any infectious diseases.

Older people, especially those over 80, should not be recommended to receive any COVID-19 vaccine, he said.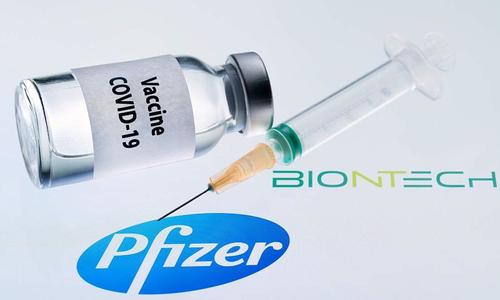 All of which is a problem since it is the elderly who are at most risk (quite frankly at any real risk at all) and thus who need the protection the most.
The Chinese health experts instead say that the most elderly and frail should be recommended to take medicines to improve their immune system.
Of course, one cannot help but note the irony of scientists from the source of the plague that has killed millions around the world and destroyed lives/economies almost everywhere, is now calling for the cessation of the process to protect against the plague.
Author's note at the end of each post: -"Your biggest problem is so small for such a big God"-Ella Cruz" The Bible serves as the blueprint of faith, and the New Testament provides us with God's faith and the power to perform miracles through faith and the name of Jesus. Regardless of the severity of cancer, healing can be achieved through faith in God's word. When Jesus raised the dead, he did not discriminate based on the level of death. He simply called forth life. Let's explore how he did it. The first time Jesus brought someone back from the dead was the daughter of Jairus, an official in Jerusalem. Although she had passed away, she was only recently deceased. The second time was the son of a widow in Nain who had been dead for just one day. Lastly, Jesus raised Lazarus, the brother of Mary and Martha in Bethany, who had been dead for three days. He raised them all. No matter how insurmountable your problem may seem, Jesus is the resurrection and the light. Ella Cruz World's events are happening so fast. Global Governance 2015, Agenda 2030, Agenda 2050, Antarctica, Mars, CERN, G5, The United Nations, The European Union, the Club of Rome, and the false prophets of the Vatican all together, we see that the satanic global government is imminent, and it shall come to pass. The mark of the beast will be obligatory. You are either a Christian or not. If you are, you believe this because it is predicted 2000 years ago in the Bible. But if you are not a Christian, you read the news and notice that the satanic world government is their agenda. Their Global Governance 2025 is terribly close. Their Green New Deal 12-year timeline matches the agenda 2030. We have a short time to prepare ourselves. Born-again Christians are happy and calm. Why? Why do we joyfully dedicate ourselves to the nation, knowing that we will be chased and prosecuted? Because we are dedicated to the Kingdom. "Thy kingdom come; Thy will be done." 1. We firmly believe that Jesus Christ is the Son of the Living God. 2. We hold the Bible as the divinely inspired Word of God. 3. We believe that God loved us so much that He sent His only begotten Son to die on the cross for our sins. Through His precious blood, all our sins are washed away and forgiven. 4. We believe that the price for our salvation, health, prosperity, happiness, and eternal life has been paid by the blood of Jesus. These gifts are freely available to us through the grace of God. By His stripes, we were healed 2000 years ago. 5. We acknowledge that by accepting Jesus Christ as our Lord and Savior, we open our hearts to the Holy Spirit. We are baptized by the Holy Spirit, who dwells within us and communicates with us through dreams, visions, speeches, videos, books, and other means. This communication begins immediately after our salvation. 6. We firmly believe that Jesus Christ remains the same yesterday, today, and forever. As born-again believers, we receive the same DNA as Jesus Christ, with the same miraculous abilities through faith. Just as the apostles performed signs and wonders like Jesus, we too can accomplish these miracles through faith, and the Lord will work through us. 7. We condemn the Vatican's religion and many false prophets who have deceived Christians for centuries, hiding the true message of the Bible and the Good News from people to maintain their power. We welcome all denominations and strive for unity in the body of Christ. 8. We believe that a born-again Christian never truly dies. When a believer's life on earth ends, they are promoted to heaven, and death holds no power over them. In heaven, we experience immense joy, love, peace, and the glory of God. Those who have had near-death experiences or have seen Jesus in a vision or dream know the indescribable relief and joy of being in His presence. To answer the question of why we are happy, we say that we could happily die at any moment. In fact, we long to go home and be with our Lord. However, we know that each one of us has a mission and purpose revealed to us by the Holy Spirit after our born-again experience. For the sake of fulfilling that mission, we remain joyful and relaxed in the spirit, knowing that we are called to save people by preaching the Gospel and bringing them to Jesus. To be born again, you just need to say: Lord Jesus, I accept you as my personal savior, Come to my heart, Forgive my sins, Wash me away, Make me a new person, And live inside of me. In the Name of Jesus from Nazareth, Amen. And that's it. You are saved! Jesus will reveal Himself to you, and your life will undergo a significant transformation. Your marriage, health (especially addiction), finances, and all areas of your life will experience an extraordinary change. And never look back. In Jesus Almighty name. Amen.