Are you against the coronavirus restrictions? Do you believe your rights have been infringed? Do you think you have the right to open your business to feed your family? If yes, with all crimes mentioned, you are a dangerous criminal in Europe, Canada and Australia and the government comes after you while opening borders to covid-19 positive people and leaving the Covid-19-positive inmates outside. Citizens are new targeted criminals, but those who committed real crimes OR those who have no portion or no right in your country are free. This is agenda 2030 just as confessed in goals 10, 11, and 16.
https://www.amazon.com/AGENDA-2030-Imminent-Danger-Humanity-ebook/dp/B07RC19NR4/ref=pd_sim_1?pd_rd_w=Ynoco&pf_rd_p=495b84a8-4624-4096-8e20-27b4882c0d09&pf_rd_r=V8FYVQ4C9ACCP6M0HFJX&pd_rd_r=f4213a03-1461-4369-aa7a-5b6e739711be&pd_rd_wg=rn58q&pd_rd_i=B07RC19NR4&psc=1
Read the news below by Euronews which is updated with Associated Press.
---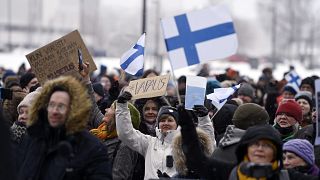 Police in Paris have arrested nine people and fined about 160 more since the beginning of the weekend for clandestinely meeting in closed restaurants despite COVID-19 restrictions.
Protests against COVID-19 restrictions were meanwhile held in multiple European capitals on Saturday.
Police in the French capital said on Sunday morning that they had arrested seven people during the night in two separate operations at a shisha bar and a restaurant for refusing to comply with an order to disperse and attacking officers. Fifty-eight people were also issued fines.
The previous evening, they had already arrested the owner and the manager of a restaurant where 110 people had gathered clandestinely. All were also issued fines.
It comes days after the government's own behaviour was questioned following the release of a documentary that accused ministers of dining in secret restaurants in violation of COVID rules.
France is currently under lockdown with all but non-essential shops closed, including restaurants and bars. A nighttime curfew running from 19:00 CET to 06:00 CET is also in force.
The new four-week lockdown was imposed last weekend to battle a surge in cases attributed to the spread of the British variant and which has put hospitals, and ICU units in particular, under serious strain.
A week later, the daily number of confirmed cases remains high with more than 43,280 infections detected on Saturday. The country has the second-highest COVID-19 death toll in the European Union after Italy at 98,602.
Twenty people were meanwhile arrested in Finland on Saturday as they protesters against measures to fight COVID-19.
About 300 people took part in the unauthorised protest in Helsinki — public gatherings of more than six people are currently banned in Finland to prevent the spread of the deadly virus.
The arrests were carried out after a police order to disperse was ignored.
Finland and its 5.5 million inhabitants have one of the best records against COVID-19 in Europe with a death toll of 866 and fewer than 114,000 cases confirmed. But a rise in the incidence rate in mid-February prompted the authorities into taking additional measures, including closing restaurants.
Hundreds of people also gathered in the Danish capital Copenhagen on Saturday to protest their country's strategy against the virus and the introduction of a COVID passport.
Launched on Tuesday, the "coronapas" is given to people who have either been fully vaccinated, have tested positive for the virus two to 12 weeks previously or negative over the previous 72 hours.It allows them to enter certain businesses including hairdressers, beauty salons and driving schools.
The protesters — who had rallied following a call by the "Men in Black" group — marched in a "relatively peaceful" way in the streets according to the authorities, before joining the city hall in the middle of the evening.
The country of 5.8 million has deplored the death of 2,436 people since the beginning of the pandemic and has recorded more than 235,000 cases.
Denmark has been under partial containment since late December. Even if several measures have been lifted since February, the quasi-general reopening is only tabled for May 21, a date chosen because it should correspond to the end of the vaccination of people over 50.
In Norway, where the government had tightened the screw before the Easter holidays in the face of a rebound in cases attributed to the British variant, about 200 demonstrators also protested Saturday in the centre of the capital Oslo against the measures taken and burned masks.
No incidents with law enforcement were reported.
Similar protests were also held in Vienna, Austria, and in the Romanian capital, Bucharest.
---
(end of the article)
ALL AROUND THE WORLD ANTI LOCKDOWN PROTESTS (Massive Global Event, Not Covered by The MSM
Author's note at the end of each post: -"Your biggest problem is so small for such a big God"-Ella Cruz" The Bible is the blueprint of Faith. The New Testament has given us God's kind of faith and the authority to perform miracles through faith and the name of Jesus. No matter what level of cancer you are; you can be healed by your faith and the word of God. Jesus did not care in what stage of death were the three people whom he raised from the dead. He just called life on them. Let see how He did it. "The first time he invaded the realm of death it was for the daughter of Jairus; an official in Jerusalem. She was "just" dead. The second time it was the son of a widow in Nain who was "one day" dead, and the third time it was Lazarus; brother of Mary and Martha in Bethany who was "very" dead after three days. HE raised them "all." It doesn't matter how big is your problem, and how hopeless you are because Jesus is the resurrection and the light."-Ella Cruz World's events are happening so fast. Putting Global Governance 2015, Agenda 2030, Agenda 2050, Antarctica, Mars, CERN, G5, The United Nations, The European Union, the Club of Rome, and the false prophets of the Vatican all together, we see that the satanic global government is imminent and it shall come to pass. The mark of the beast will be obligatory. You are either a Christian and believe this because this is what was predicted 2000 years ago in the Bible, or you are not a Christian but you read all these articles and connect the dots to notice that the satanic world government is their agenda and with President Trump, we had 4 years and this was God's mercy on us. Their Global Governance 2025 is terribly close. Their Green New Deal's 12 years matches the agenda 2030. The immigration and devouring of America and Europe all go according to the blueprint of one world satanic government. We have a short time to prepare ourselves. Why are we, born-again Christians happy and calm? Why do we joyfully dedicate ourselves to the nation, knowing that we will be chased and prosecuted for NOT taking the mark of the beast? Because we are dedicated to the Kingdom. "Your kingdom come, Your will be done." 1- We believe Jesus Christ is the son of the Living God. 2- We believe the Bible is the word of God. 3-We believe God had so much loved us that HE sent his only begotten son to die on the cross for our sins. Through his blood, all our sins are washed away and forgiven. 4- We believe the price of our salvation, health, prosperity, happiness, and eternal life is paid by the blood of Jesus. We have all these gifts in us when we are born again by GRACE. By his stripes, we are healed 2000 years ago. 5-We believe by accepting Jesus Christ as our savior, we open our hearts to the Holy Spirit. We are baptized by the Holy Spirit who will dwell in us and will reveal Himself through dreams, visions, speeches, videos, books to communicate with us, immediately after our Salvation. 6- We believe Jesus is the same yesterday, today, and forever. We believe born-again believers receive the same DNA as Jesus Christ with the same miraculous abilities through faith. Just as the Apostles performed the same signs and wonders as our Lord Jesus did. They did it through "faith," and The Lord will accomplish the same miracles through us after we accept him as our savior. 7-We condemn the religion and many fake prophets of the Vatican (not all of our Catholic brothers and sisters) who deceived Christians for centuries and hid the true message of the Bible and the Good News from people to keep themselves in power. We welcome all denominations. 8- We believe that a born-again Christian never dies and the moment his life on earth is terminated, he is promoted to heaven. There is no death for us. We just transit to our new dimension which is filled with immerse, joy, love, peace, and glory of God. All people who have met Jesus in a visit, vision, dream, or have died for a short time, left their body and came back, know how does this experience feel. It is a divine relief and joy. Therefore, to answer the above question (why are we happy?), our answer is, we can happily die right now. In fact, we would love to die yesterday and go home but each one of us has a mission and purpose that the Holy Spirit has revealed to us after our born-again experience. For the sake of that mission, although we know our day of prosecution will come, we are joyful and relaxed in the spirit. Because we save people by preaching the Gospel and bringing them to Jesus. To be born again, you just need to say: Lord Jesus, I accept you as my personal savior, Come to my heart, Forgive my sins, Wash me away, Make me a new person, And live inside of me. In the Name of Jesus from Nazareth, Amen. And that's it. You are saved. He will reveal himself to you. Your life will dramatically change. Your marriage, your health (especially addiction), your finances, and all areas of your life will experience this extraordinary change. And never look back. In Jesus Almighty name. Amen.